Kuma Kitchen - Make ahead pork carnitas
Elevate your camping experience with our delicious make-ahead pork carnitas recipe! In our latest Kuma Kitchen Series video, we show you how to prepare tender, flavourful pork ahead of time, so you can enjoy a hassle-free meal at the campsite. Once you're at the campsite, simply heat and serve using your Grill & Burner Propane Stove for a mouthwatering meal with minimal prep work.
Ingredients:
For the pork:
2.5kg pork shoulder (skin removed, bone left in)
3 tbsp olive oil
1 tbsp oregano
1 tbsp cumin
1 large white onion
2 jalapenos
2 serranos
6 cloves garlic
3 oranges
2 limes
1 tbsp salt
1 tbsp black pepper
1.5 cups KUMA Off Grid Pineapple Session Ale
For the guacamole:
½ red onion
3-4 avocados
3 cloves garlic
1 jalapeno
2 limes
Salt & pepper to taste

Misc:
Corn tortillas
1 can of refried beans
1 white onion
Fresh cilantro
1 lime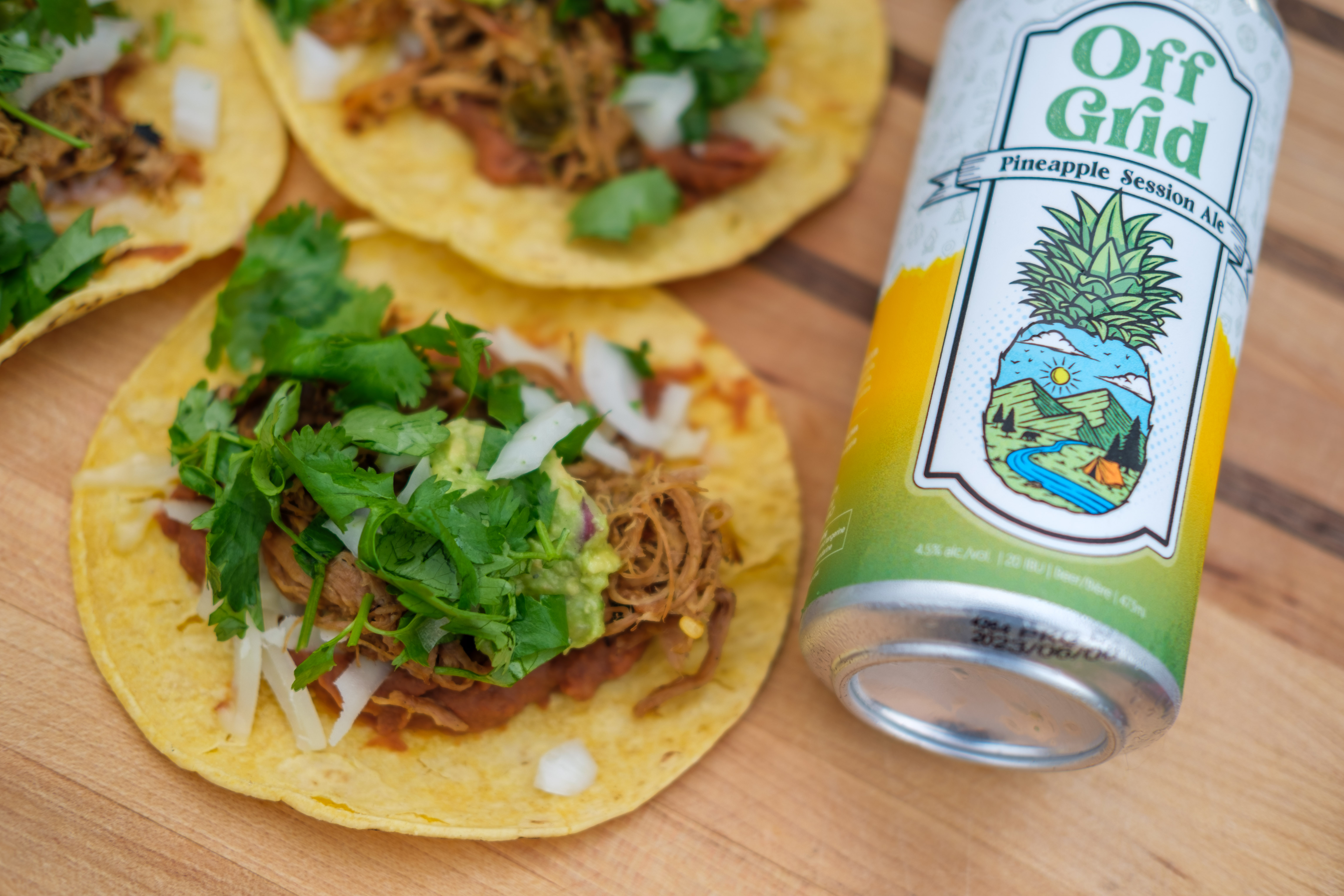 Preparation:
Remove the skin from the pork shoulder if applicable
Poke holes in the side of the pork, and insert 4 of the whole garlic cloves
Combine the olive oil, oregano, salt, pepper and cumin and rub all over the pork shoulder
Place into a slow-cooker and top with 1 diced white onion, 2 jalapeño, 2 serranos, 2 cloves minced garlic
Pour in the juice from 3 oranges, 2 limes and 1.5 cups of KUMA Off Grid Pineapple Session Ale
Cover and cook on low for 10 hours
Remove the meat, onions, peppers and shred. Making sure to remove any bones
Keep the liquid from the slow-cooker in a separate bowl
This is now ready to go, it can now be packed into a tupperware, or frozen to bring camping
Make the guacamole by combining the avocado, diced onion, jalapeño, minced garlic and juice from the limes in a bowl and mashing with a fork. Salt and pepper to taste
Chop onion, and cilantro, add to a bowl and toss with the juice of 1 lime, this is for topping the carnitas
In a cast iron pan or on crisp up the pork, spooning over some of the reserved liquid while frying
Heat up a can of refried beans over low heat
Heat up the tortillas in a pan, top with beans, then cheese, then pork, then remove from the pan and then top with the guacamole, and the onions, cilantro, lime mixture
Serve while warm, with another can of Off Grid
Tips
This meal can be prepped right before going camping, or a few weeks before. You decide whether to pack it in a large tupperware like I did for easy transport, or freeze it in some large bags and let it thaw in the cooler. The majority of the work is done at home, so that at the campsite you are just crisping up the meat, making the toppings and assembling.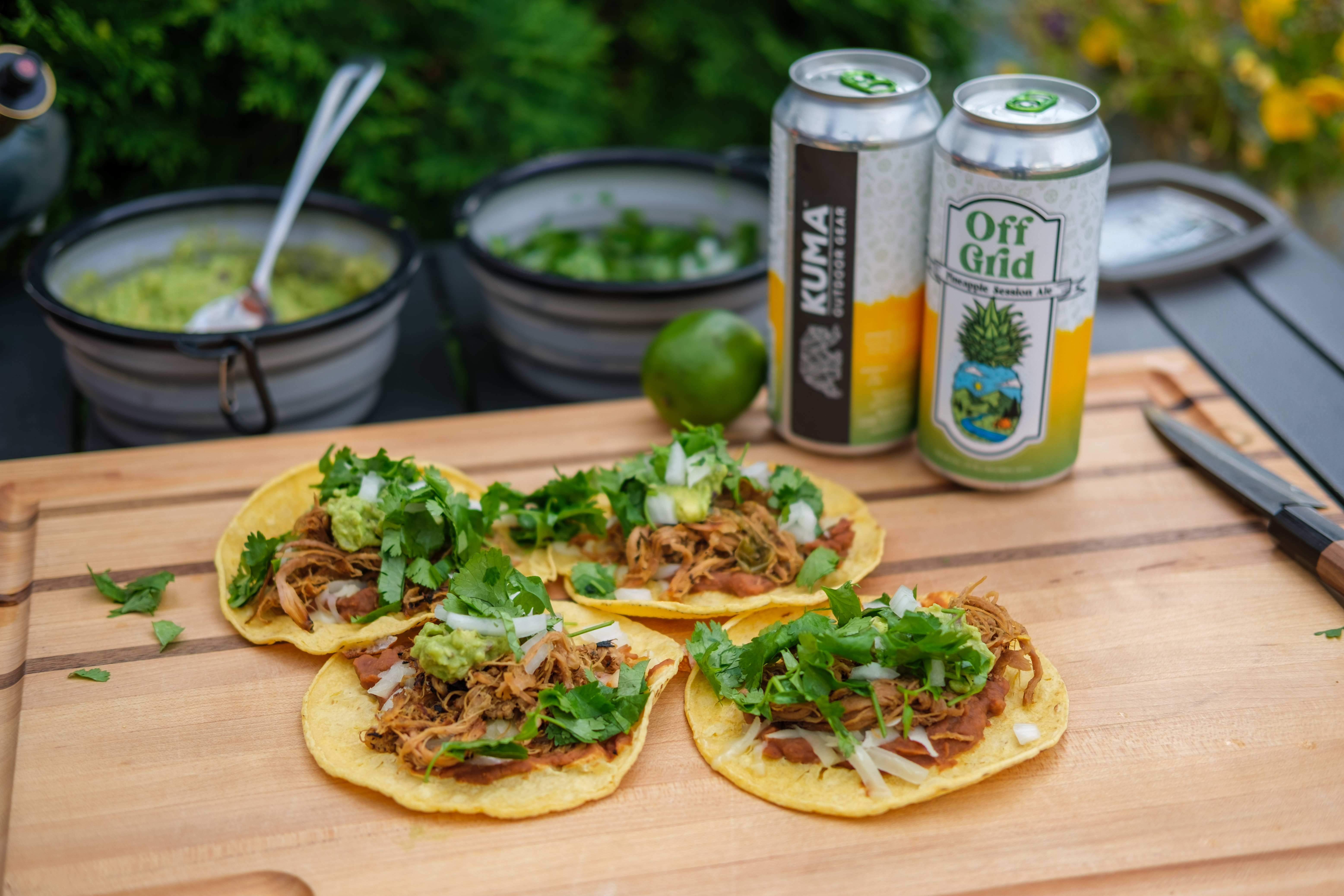 Stay connected to our #KumaKommunity!
Make sure to follow Kuma Outdoor Gear on Instagram, Twitter, and Facebook to see more content like this, stay up to date on giveaways, our favourite camp-friendly recipes, and new product drops.
Want to share your adventure? Use the hashtag #KumaKommunity to show us your favourite Kuma gear in an encouraging and inspiring online space!
Share Article