Drumroll please! Looking for a way to make your camping experience that much more comfortable and luxurious this season? We've got the answer.
Not only is it the start of March (Hello? Were we not just ringing in the New Year?) – but we've got another reason to celebrate here at the Kuma Outdoor Gear headquarters: a new heated camping chair.
That's right, we've added to our lineup of awesome and versatile heated chairs for camping. Allow us to formally introduce you to the brand new Switchback Chair!
Equipped with Duoheat technology, a 10,000 mAh power bank, and featuring ultra-easy temperature control through the Kuma Heated App, the Switchback Heated Chair sets itself apart with the way it integrates cushy comfort, cutting edge tech, and the great outdoors.
Without further ado, let's discuss the Switchback Chair, its features, and discuss the many benefits of incorporating camp-tech into your camp gear arsenal.
The Switchback Specs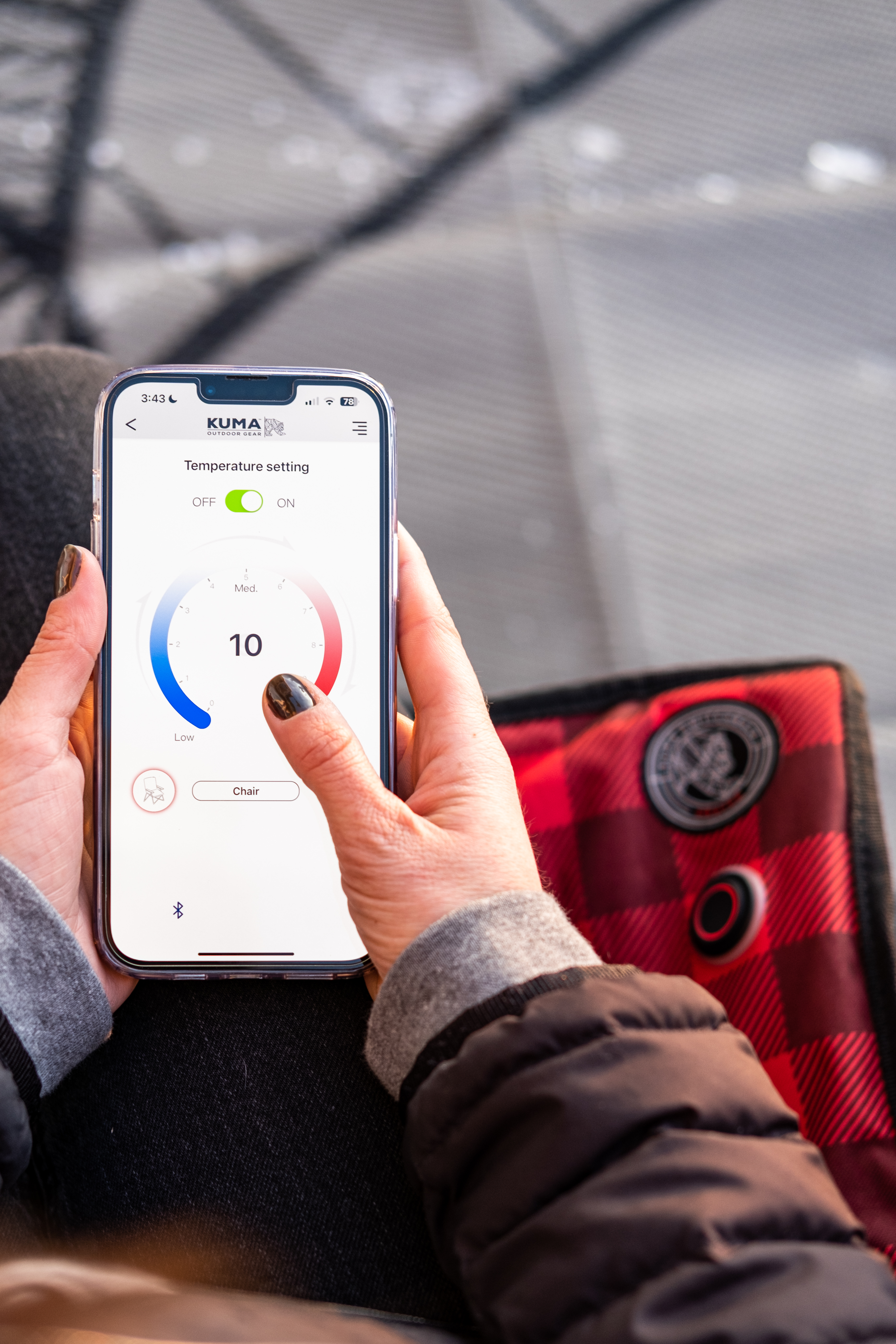 Let's talk details and specifications:
The new Switchback Chair from Kuma Outdoor Gear is a game-changer.
This ultra-comfy and ultra-convenient heated camping chair features DuoHeat® technology that spreads heat from the seat of the chair to the back of the chair – great for soothing those back muscles after a long day of activity!
The Switchback also comes equipped with a 10,000 mAh capacity power bank, a stylish carry bag, and an LED-lit power and temperature indicator touch button.
The pièce de résistance? You can easily micro-adjust the temperature of the chair through the Kuma Heated App – available now for both iOS and Android devices.
The Switchback Chair is made of extra-durable 600D polyester and boasts a trendy quilted red-and-black plaid pattern, with a sierra-black pattern in the works for Fall 2023. It's also got sturdy bones – she's built to last! The chair has 1 and ¾" piping and stabilizer feet, so you're solid on almost any surface.
Convenience abounds on the Switchback Chair with a phone holder, an insulated beverage holder, and a stemmed wine glass holder.
The Power Of Technology At A Campsite
When you think of camping, the luxuries of home may not immediately spring to mind. Sure, you can't take Alexa with you – but you can certainly augment your experience with technology.
Let's take a look at some camp-tech that can make your camping experience that much more enjoyable and convenient: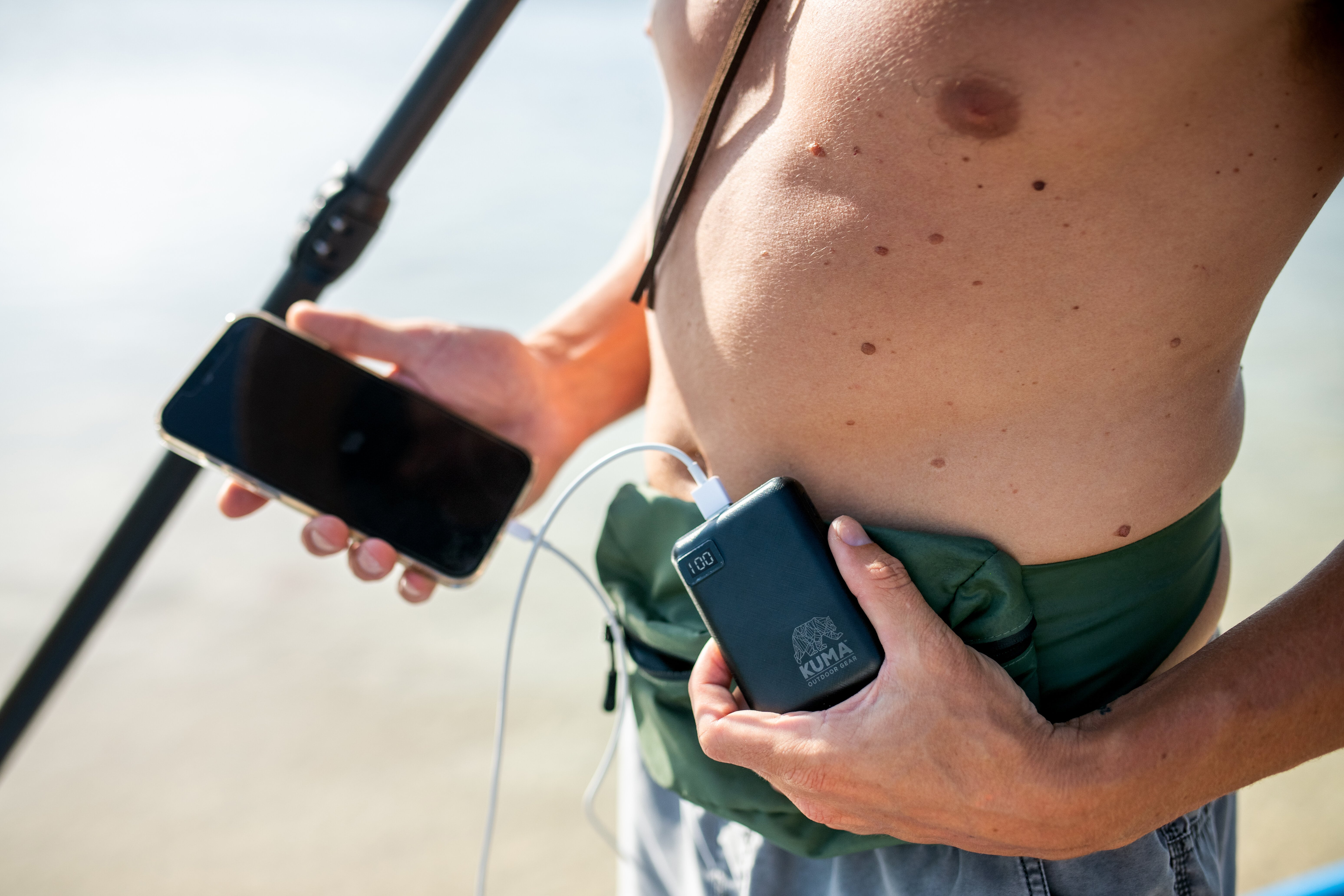 Portable Power Banks: The Switchback Chair features a convenient power bank with a battery capacity of 10,000 mAh, we also carry individual power banks! Take these stylish power banks with you anywhere – even on an airplane! Use your power bank to charge your phone, tablet, or other devices, so you can stay connected wherever you are!
Bluetooth Speakers: Bluetooth speakers have come a long w

ay in recent years; most models are water resistant, durable, and small enough to toss into a duffel bag on your way out the door. Listen to music, a

podcast

, or use it as your sound system for a late night movie!

Heated Camping Chairs: We'd be remiss if we didn't touch on the comfort and convenience of a heated camping chair! Heated chairs are great for aching back and leg muscles after a long day of hiking! They're also pretty practical in everyday life, too! Bring them to an early morning game or an impromptu autumn barbeque.
Portable Wi-Fi Hotspot: Want to enjoy the peace of nature but still have that deadline? Need to monitor work emails? As much as it would be ideal to completely disconnect while camping, it's not always possible – and you may not want to use your cellular data plan and battery life to catch up on work. Portable hotspots are cost effective and easy to come by – plus they're pretty small, often no larger than a USB stick.
These are only just some of the ways you can infuse technology into your camping lifestyle.
Remember, the camping experience is totally unique to the camper! While some of our readers might resonate more with a totally unplugged experience (and that's awesome!), we also think integrating technology into camping gear is a great way to stay safe, stay connected, and can help newer campers adjust to the lifestyle.
Stay Connected With Our #KumaKommunity!
Make sure to follow Kuma Outdoor Gear on Instagram, Twitter, and Facebook to stay up to date on giveaways, our favourite camp-friendly recipes, how-to guides, and new product drops.
Want to share your adventure? Use the hashtag #KumaKommunity to show us your favourite Kuma gear in an encouraging and inspiring online space!
Share Article