Kuma Kitchen - Steak Salad on the Grill & Burner Propane Stove
Don't want to lug around a big, bulky BBQ but still want to grill your favourite protein to perfection? Designed with portability in mind, our Grill & Burner Propane Stove is remarkably lightweight and compact, making it the perfect companion for any outdoor adventure! Grill your steak (or any protein you prefer!), cut up some veggies, measure and mix the salad dressing all in one jar for easy dishes later, and you have yourself the perfect dinner to enjoy on your next camping trip!
Looking for more recipes to make with the Grill & Burner Propane Stove? Check out our past Kuma Kitchen Series recipes for more fun, easy and delicious meals to make while enjoying the outdoors!
Ingredients:
1 large striploin steak (16-20oz) or a couple of smaller ones
Steak seasoning (salt, pepper, dried garlic)
1 bag of pre-washed spring mix lettuce
½ English cucumber
1 quart cherry tomatoes
½ red onion
¼ cup fresh basil
½ cup crumbled goat cheese
¼ cup crumbled walnuts

Salad Dressing:
½ cup extra virgin olive oil
⅓ cup dark balsamic vinegar
2 tbsp dijon mustard
2 cloves of garlic minced/microplaned
1 tbsp dried herbs (parsley, red onion, chives, shallots, garlic, dill) italian seasoning blend is a good substitute
1 tsp salt
2 tsp black pepper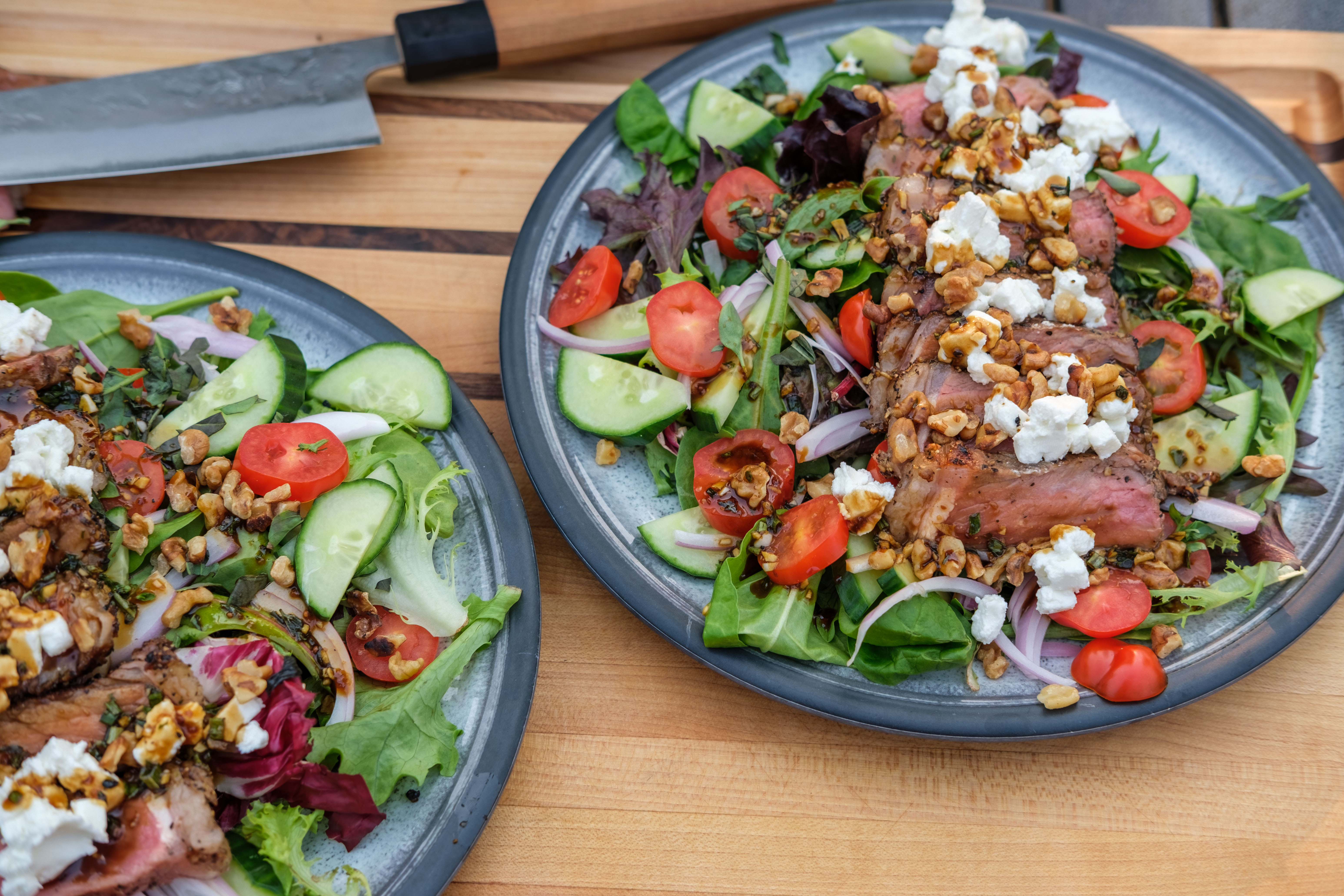 Preparation:
Set up and light your campstove so the grates can pre-heat.
Then start the prep by generously seasoning all sides of the steak with salt/pepper/dried garlic. Let it sit for 10-15 minutes while it comes up closer to room temperature.
While we wait for the steak, start the salad dressing. Mince the garlic, and get a mason jar.
Turn the temperature of the camp stove grill down to about ¾ power and put the steak down diagonally as we will be rotating it before flipping.
For a large steak like the one in the video, I let it go for 3 minutes before touching it. After 3 minutes rotate it 90 degrees (basically making an 'X' from where it was before). Let it go for another 2-3 minutes before flipping.
While waiting, I finished the salad dressing. Combine all ingredients (olive oil, balsamic, mustard, dried herbs, garlic, salt, pepper) in the mason jar, and shake to emulsify. Set aside.
Flip the steak (again, let it go for 3 minutes, rotate then another 2-3 minutes before removing)
While we wait, prep the vegetables for the salad, slicing the cucumbers into half moons, slicing the red onion thinly, slicing or quartering the cherry tomatoes and thinly slicing the basil.
Plate the salad (spring mix, then all of the other vegetables)
Check the temperature and remove the steak if it is to your desired doneness. I pull my steaks around 125-130 degrees fahrenheit. Then cover with a sheet of tin foil and let rest about 5 minutes before slicing. It will continue to rise another 3-5 degrees while resting
While the steak is resting, add the walnuts to a dry pan, and toast over medium/low temperature until warm and just starting to show a bit of color.
Slice the steak across the grain, place over top of the salad, top with crumbled goat cheese, toasted walnuts, and the drizzled dressing. Eat while the steak is still warm.
Tips:
Timing recommendations for the steak are very dependent on the size/thickness of the steak, as well as how you like your steak cooked. I like a medium rare steak which is about 130-135F. So I aim to pull the steak off the grill between 125-130F, so that it comes to a perfect temperature while resting. An instant read thermometer is a great tool here!
Letting your steak rest is very important. While cooking, a lot of the juices are forced to the center of the steak, so if you slice immediately the juices pour out. Letting it rest, allows the juices time to redistribute throughout the steak.
Take the time to do the extra step of toasting the walnuts to enhances their flavor!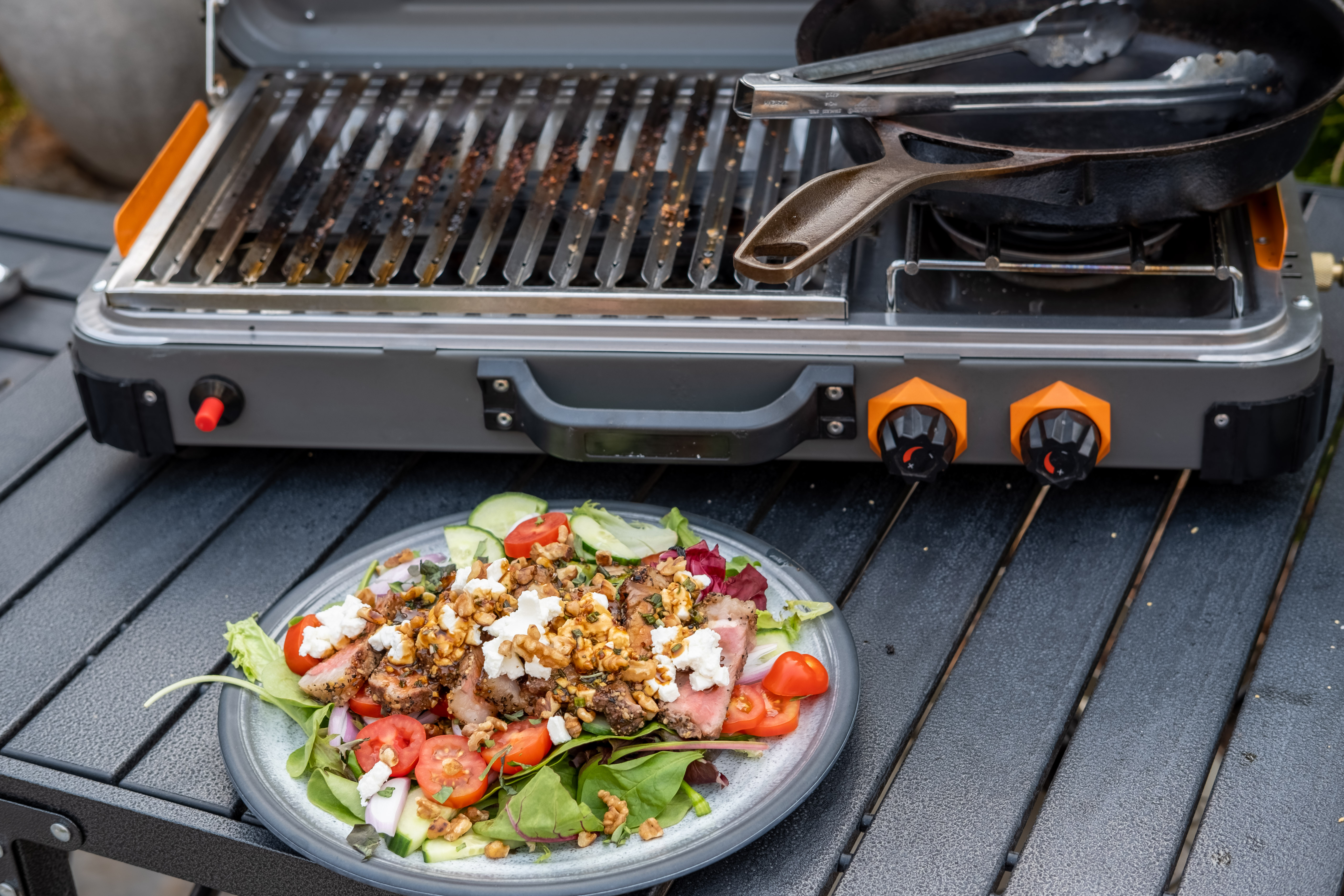 STAY CONNECTED WITH OUR KUMA KOMMUNITY
Make sure to follow Kuma Outdoor Gear on Instagram, Twitter, and Facebook to stay up to date on giveaways, our favourite camp-friendly recipes, how-to guides, and new product drops.
Want to share your adventure? Use the hashtag #KumaKommunity to show us your favourite Kuma gear in an encouraging and inspiring online space!
Share Article