Depending on where you live, school is going to be out for the summer within the next month – and for those in our Kuma Kommunity with children, it'll be time to find some awesome camping games and activities for the kids to take part in – whether you're trekking through national parks in your RV or tenting at your favourite campground!
The Kuma team has put together a comprehensive list of engaging and unique outdoor games and camping activity ideas that you can do with your kids for your next family camping trip. We believe that exploring and safely interacting with nature creates unforgettable memories, strengthens family bonds, and instils a love of the outdoors in children and adults alike!
Get ready for ghost stories that send shivers down your spine and super-fun camping games! Gather around the proverbial campfire and let Kuma Outdoor Gear be your guide to a top-tier family camping experience.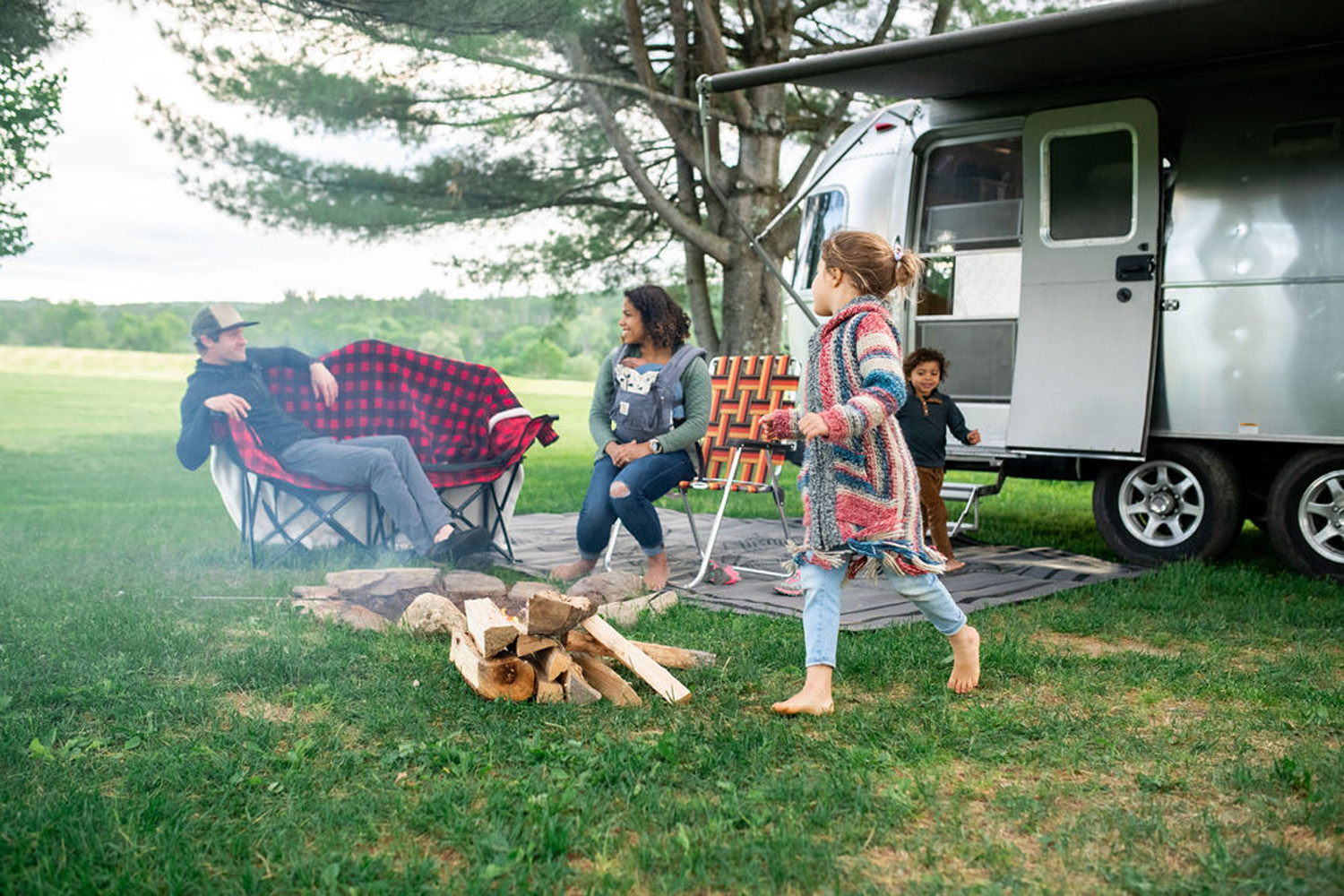 Unique Camping Games & Activities
Traditional camping activities like hiking and biking are fantastic, but why not add a little novelty to your family's camping experience? Let's take a look at a few unique outdoor games that will keep your kids entertained and moving!
Glow-in-the-dark treasure
hunt
This activity is simple, fun, and super cost-conscious. Turn your campsite into a seriously cool adventure with a glow-in-the-dark treasure hunt!
Before the sun sets, hide glow sticks around your campsite. Give each of your kids flashlights and let them run around to find the hidden glow sticks!
Nature-inspired scavenger hunt
Take a typical scavenger hunt to the next level! Create a list of items that you'd typically find in nature – a rock of a certain size, a stream, a yellow flower, and throw in a few items for an extra surprise, like a puzzle or a new book.

Kuma Bocce Ball
Want to get a little competitive? Get ready for loads of camping game entertainment with one of our new Bocce Ball sets!
Essentially, the rules of Bocce Ball involve two teams taking turns rolling or throwing balls to get them as close as possible to a smaller target ball called the pallino. Points are awarded based on the number of balls that are closer to the pallino than the opponent's closest ball.
Our Bocce Ball set comes with four grey and 4 orange bocce balls and one white pallino ball. Our convenient carry bag makes it easy for a summer on the go!
Playing Cards
Rainy day? No problem! Break out a fresh pack of our beautiful Kuma Playing Cards and play a few rounds of Go Fish, Crazy Eight, Rummy, and more!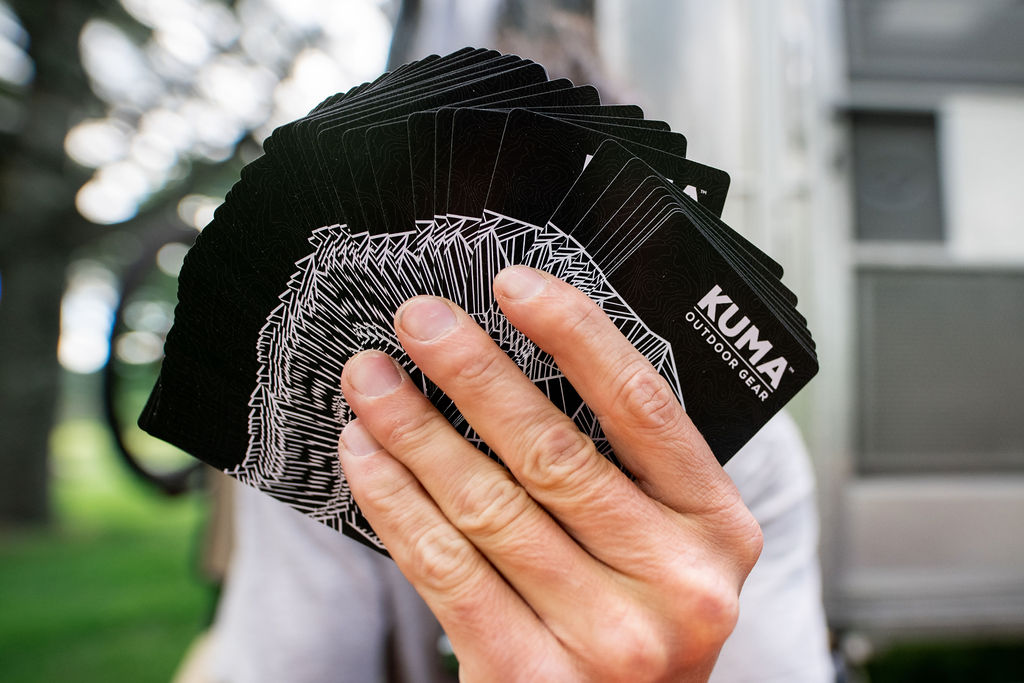 Spooky Campfire Fun
Picture this: your delicious campfire dinner has been cleared away, the sun is setting over the horizon, and your campfire has been crackling merrily all night long. It's the perfect ambience to gather 'round and start telling some ghost stories!
Do a little local research on different ghost stories in your town or city and come armed with the perfect tale to spook your campfire crowd. Reddit is an excellent resource for local ghost story or haunted locale discussion. Additionally, many larger cities will have books from local authors that feature ghost stories from their province or state – often found at your local library or through Amazon.
For example, Alberta-raised author Barbara Smith has an entire catalogue of books dedicated to hauntings at Alberta homes, hotels, theatres, and more called Ghost Stories of Alberta.
Note: When researching stories to regale to your children, use age-appropriate discretion!
You can also encourage your family members to create their own spooky story! Have each person use their imagination to tell their own scary tale full of twists, suspense, and a captivating ending.
Creative Campfire Colours and Tricks
Get a little scientific with these super-cool campfire tricks. Best of all? You can find the ingredients to make the magic happen right in your pantry.
Green Flames: Sprinkle some Borax (or sodium tetraborate) to conjure up some green flames.
Purple Flames: For a violet hue, throw in some water softener!
Orange Flames: A tidbit of table salt will produce deep orange flames!
White Flames: Get fantastical with epsom salts for white flames.
Plus, give your flames a little boost with a sprinkle of flour, and create your own 'fireworks' with a pinch of sugar!
Note: Use caution when interacting with fire.
Venture Beyond The Campsite
You're on vacation! If you're close to a new city or town, research local activities and attractions nearby and explore! Think water parks, theme parks, boardwalks, and other outdoor games and activities that'll be fun for the whole family!
For more inspiration, check out Verywell Family's guide on 100 Summer Fun Ideas for Kids and Parents!
Stay Connected With Our #KumaKommunity!
Make sure to follow Kuma Outdoor Gear on Instagram, Twitter, and Facebook to see more content like this, stay up to date on giveaways, our favourite camp-friendly recipes, and new product drops.
Want to share your adventure? Use the hashtag #KumaKommunity to show us your favourite Kuma gear in an encouraging and inspiring online space!
Share Article