Kuma Kitchen - Sloppy Joseph
Welcome back to our Kuma Kitchen series, where we bring you delicious recipes that are perfect for all your outdoor adventures! On our latest post, we've taken a classic camping meal from basic to gourmet, all while honouring the same flavours and sloppiness you remember as a kid.
Say hello to the Sloppy Joseph, a fancy(ish) upgrade on the ol' Sloppy Joe that's going to become a camping meal staple for you this summer!
Ingredients:
Brioche buns
Cheddar cheese
500g ground beef (lean)
1 tsp baking soda
250g bacon
2 tbsp flour
1 red bell pepper
1 large yellow onion
1-3 jalapenos
4 cloves garlic
3 tbsp tomato paste
⅓ cup ketchup
1 tbsp chili powder
2 tsp smoked paprika
2 tsp mustard powder
2 tsp black pepper
2 tsp salt
1 cup beef stock concentrate
1 cup passata (can substitute tomato sauce)
3 tbsp dark balsamic vinegar
2 tbsp brown sugar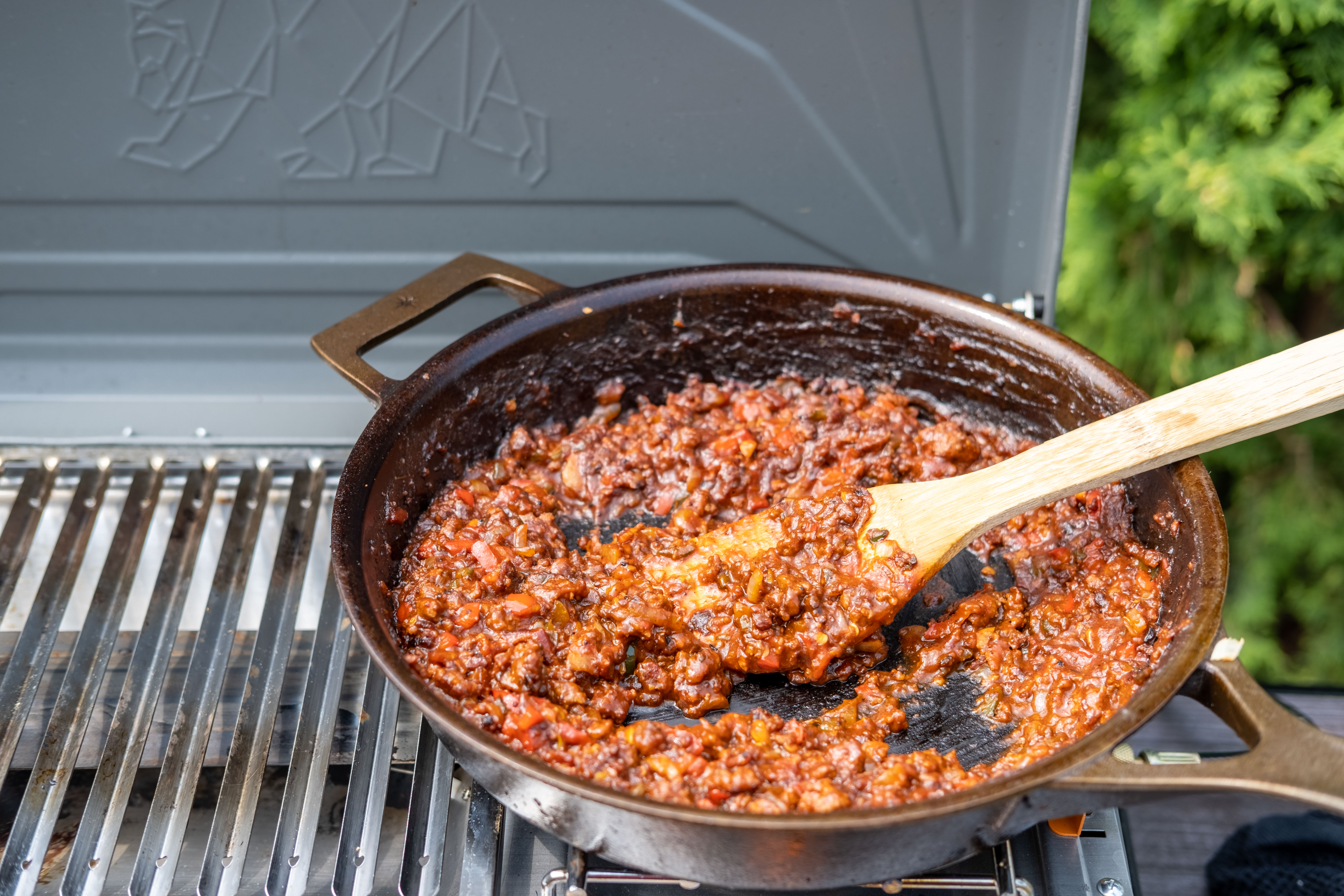 Preparation:
Combine the ground beef and baking soda, mixing together. The baking soda changes the pH of the ground beef helping it to retain its juices while cooking, and improving browning. Let sit for 10 minutes.
Slice the bacon into small pieces and add into the ground beef, then together into a preheated pan.
Break the beef into small pieces as it cooks, scraping the bottom of the pan each time you mix it around.
While the meat cooks, prep all of the veggies. Small dice on the onion, red pepper, and jalapeno. Mince on the garlic
Once the meat is cooked through, reduce heat to medium and add the veggies to the pan and cook for 2-3 minutes until the onions start to be translucent.
Add in the 2 tbsp of flour, and mix quickly to incorporate throughout, this is going to help to thicken the sauce as we build it
Add in the tomato paste, ketchup, chili powder, smoked paprika, mustard powder, pepper, and salt. Mix to incorporate.
Add in the beef stock, scrape the bottom of the pan as you mix it in, to make sure any of the browned bits are lifted off the bottom, these are packed with flavor.
Add in the passata, balsamic vinegar and brown sugar, mix to incorporate.
Continue to cook on medium-low until desired consistency.
Toast the brioche buns, top with a slice of cheddar cheese and a few big scoops of the sloppy joseph mixture. Enjoy open-faced or as a sandwich.
Tips:
- Adjust the number of jalapenos (or remove seeds) to reduce the spice level, or substitute green bell peppers.
- Passata is 100% uncooked tomatoes that have been peeled, removed seeds and turned into a thick sauce. Tomato Sauce can be substituted but often includes other ingredients, and is sometimes cooked resulting in a less bright flavor.
- Regular beef stock, or beef bouillon can be substituted for the concentrated beef stock. If using regular beef stock, you will want to at least double the amount and will have to cook for longer to reduce the liquid. If using bouillon cubes, include water as per package instructions. The beef stock concentrate I use is a 4:1 concentrate, 250mL concentrate is equal to 1 L beef stock reduced.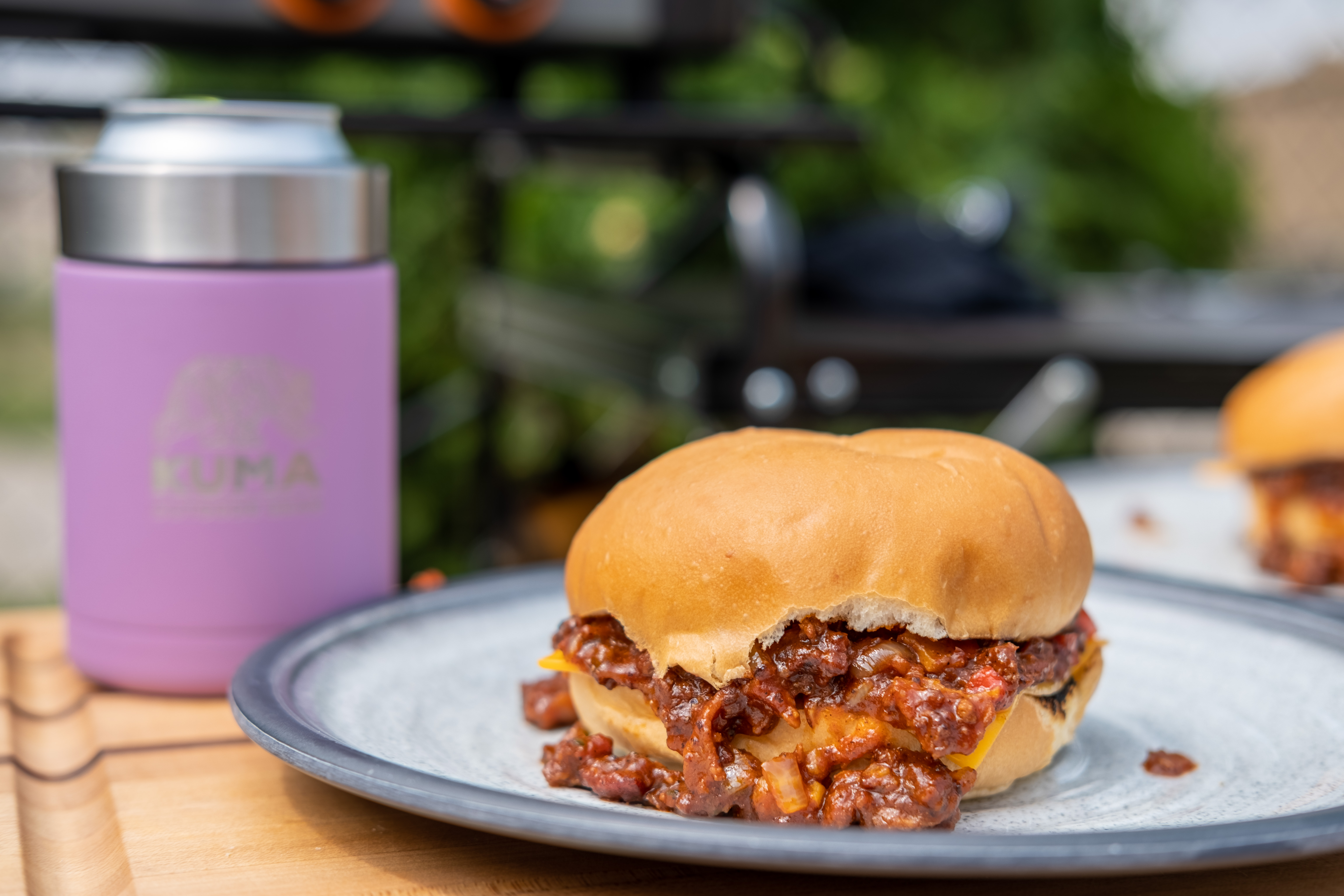 Stay connected to our #KumaKommunity!
Make sure to follow Kuma Outdoor Gear on Instagram, Twitter, and Facebook to see more content like this, stay up to date on giveaways, our favourite camp-friendly recipes, and new product drops.
Want to share your adventure? Use the hashtag #KumaKommunity to show us your favourite Kuma gear in an encouraging and inspiring online space!
Share Article