Kuma Kitchen - Warm Corn Salad
Welcome back to our Kuma Kitchen series, where we bring you delicious recipes that are perfect for your all your outdoor adventures! On our latest post, we're sharing a mouthwatering recipe for a warm corn salad side dish that will elevate your camping meals to a whole new level.
Imagine enjoying the sweet corn, mixed with vibrant veggies, hearty black beans and zesty seasonings, all cooked right at your campsite. This satisfying salad is the perfect accompaniment to grilled meats, and burgers, or even enjoyed on its own as a light and refreshing snack.
Ingredients:
4 cobs of corn
1 can of black beans (500mL)
1 large red onion
1 pint cherry tomatoes (500mL)
4 cloves of garlic
2 jalapenos
½ bundle of cilantro
1 cup crumbled feta cheese (250mL)
Salad dressing:
2 limes juiced
4 tbsp white wine vinegar
4 tbsp extra-virgin olive oil
1 tbsp chipotle powder
2 tbsp cumin powder
1 tbsp black pepper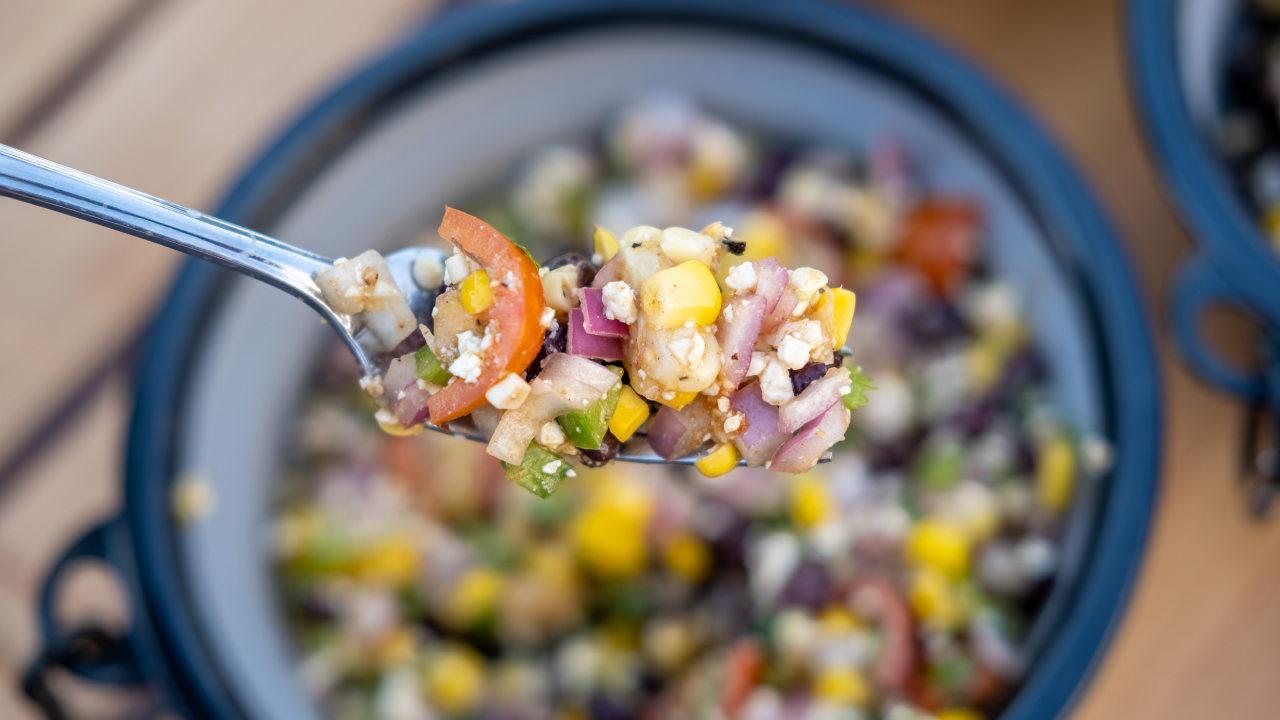 Preparation:
Set up and light your Deluxe Two Burner Propane Stove.
Bring a large pot of water up to a rolling boil.
Add in the corn (breaking in half sometimes helps them fit). Boil for 8 minutes and then remove from the water.
Pour the can of black beans, including the liquid into a small saucepan and bring up to a simmer over medium heat. Once simmering, cook for 2-4 more minutes before removing from heat and draining.
While the corn and black beans cook, prep all of the veggies. Dicing the red onion, small dice on jalapeno, mincing the garlic, quartering the cherry tomatoes, and rough chopping the cilantro. Add all of the veggies to a large bowl.
Once the corn is removed from the water, slice all of the kernels off of the cob. Hold vertically and slice downwards. It is fine if it stays in larger strips, they will break apart when the salad is mixed. Add to the bowl of veggies.
Once the black beans are cooked, drain the liquid and add the beans to the bowl.
Crumble the feta cheese on top.
Add all components for the dressing (lime juice, white wine vinegar, evoo, chipotle powder, cumin, pepper) and then mix well to combine.
Serve while warm, refrigerate (or cooler) for the leftovers.
TIPS:
- If you do not have chipotle powder, you can substitute smoked paprika with a couple tsp of cayenne. Smoky flavor from the paprika, and spice from the cayenne.
- Do not overcook the black beans, we don't want them to be mushy when we mix the salad.
- Remove the seeds from the jalapeno, or substitute green peppers if you would like less spice.
- This makes a great side-dish for any meal, or if you add some grilled chicken and rice it makes a delicious burrito, or burrito bowl.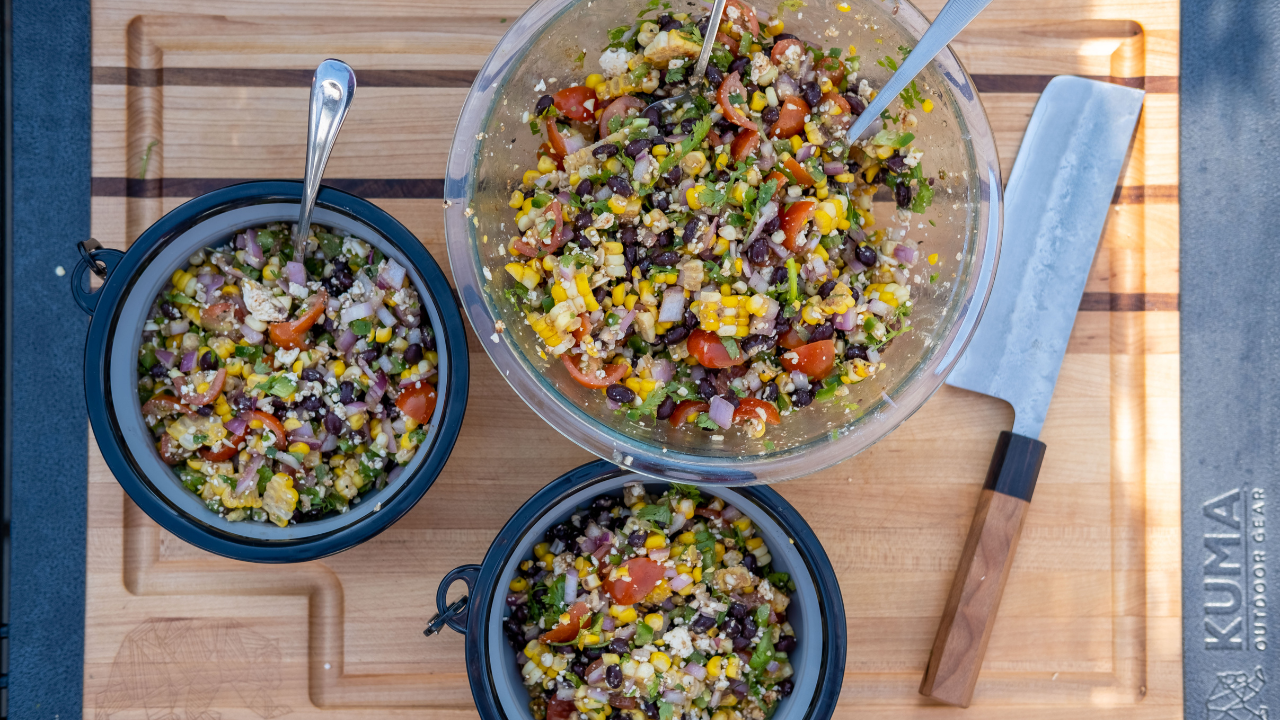 STAY CONNECTED WITH OUR #KUMAKOMMUNITY!

Make sure to follow Kuma Outdoor Gear on Instagram, Twitter, and Facebook to see more content like this, stay up to date on giveaways, our favourite camp-friendly recipes, and new product drops.
Want to share your adventure? Use the hashtag #KumaKommunity to show us your favourite Kuma gear in an encouraging and inspiring online space!
Share Article