We can scarcely believe it – but April has arrived, and spring has well and truly sprung in the Kuma corner of the world! The snow is melting, the birds are singing, the days are long, and the promise of a campfire-filled summer hangs in the air.
We've had a busy 2023 thus far: we've launched our new Switchback Heated Chair – the game-changing, ultra-comfy heated chair for camping. The Switchback features DuoHeat® technology that spreads heat from the seat of the chair to the back of the chair, perfect for damp weather – and perfect for warming up after a chilly, damp day!
It's particularly timely that we're discussing how to stay warm and dry during the rainiest month of the year for most locales – although these tips on how to deal with inclement weather are valid year-round!
Whether you're pitching your trusty tent or loading up the RV this camping season – the Kuma team's got you covered! Let's discuss our top tips for cultivating a keep-warm strategy for these colder spring months:
Dress Appropriately
One of the most important aspects of keeping warm and dry during a rain shower is dressing appropriately – and staying aware of how the weather might change throughout your trip by monitoring conditions in the days before you leave.
Layering is key for regulating your body temperature and keeping things flexible. It's not uncommon during this time of year for days to start out cold or drizzly and then transform into a warm, sunny afternoon!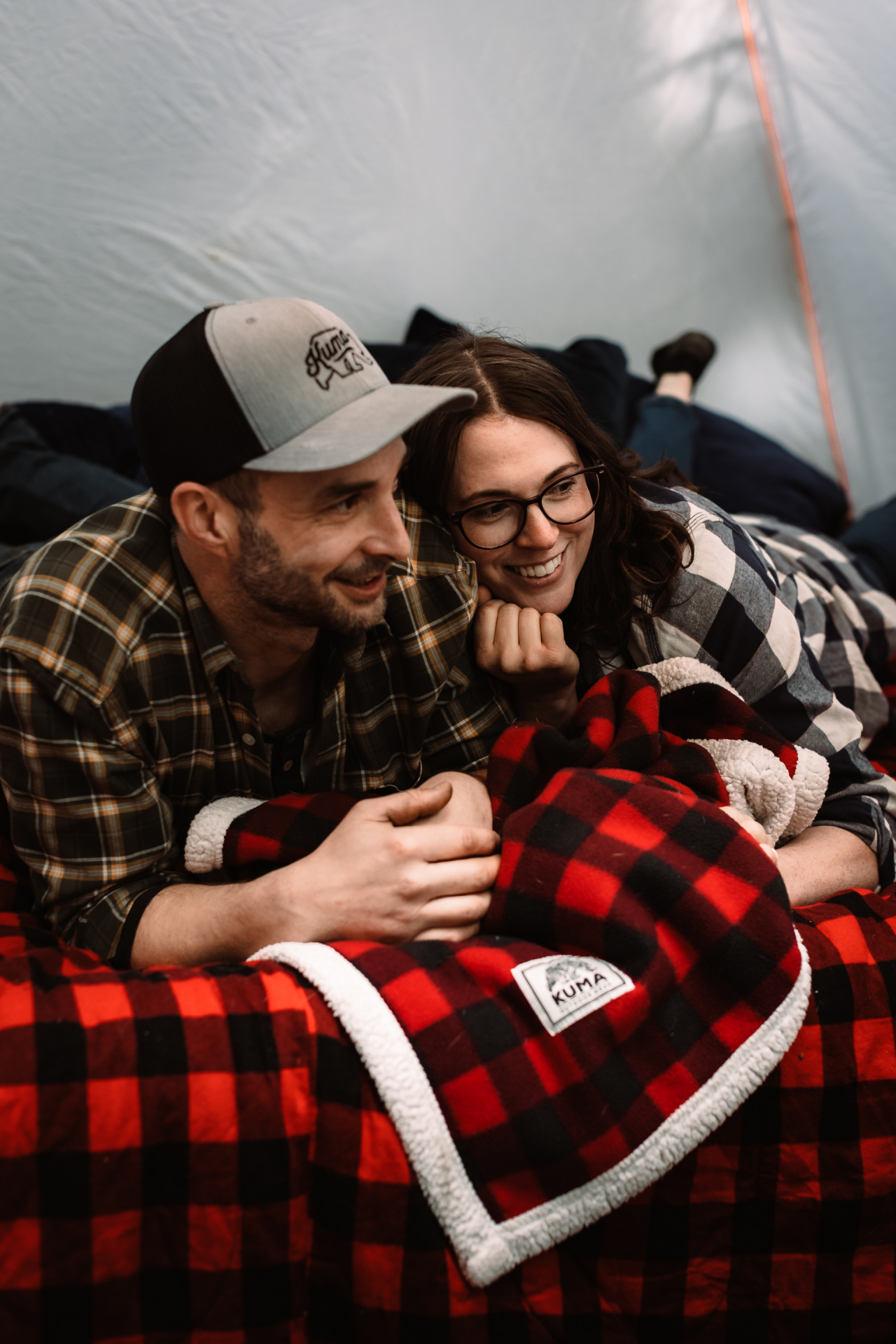 Here are some tips for choosing the right layering pieces:
Start with a base layer made of moisture-wicking material to keep sweat away from your body.
Add an insulating layer, such as a fleece or down jacket, to keep you warm.
Finish with an outer layer that is waterproof or water-resistant to protect you from rain or snow.
When choosing your clothing, look for pieces made of water resistant, breathable fabrics – not cotton. Breathable fabric will ensure you stay dry without getting too sweaty!
Note: If you are tenting during these early spring months, be sure to pack warm sleep clothing like thermal pants and shirts. Merino wool is a great option: it easily wicks away moisture and can absorb up to 35% of its weight before it starts feeling wet!
Depending on the climate, you'll want to accessorize with rain jackets, down jackets, insulated pants, rubber boots, and hats with wide brims to keep the rain off of your face. Stock up on fresh socks and extra gloves – wet hands and feet can quickly dampen a day outdoors!
Protect Your Gear
Now that we've covered how to dress yourself – let's talk about how to dress your camping gear!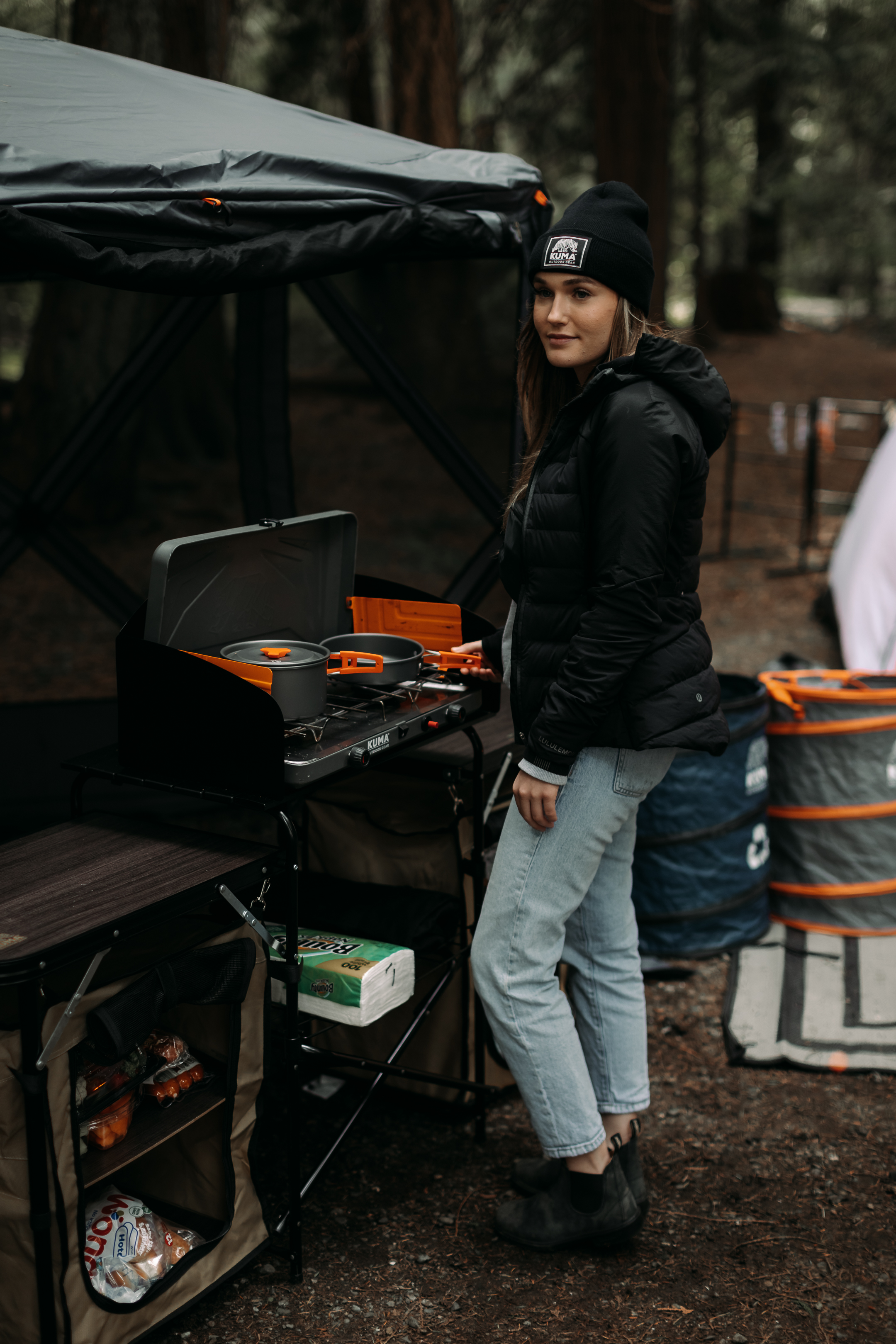 Here are a few tips for choosing the right gear for outdoor activities in wet weather if you're tenting:
Look for backpacks or bags made of waterproof or water-resistant materials to keep your belongings dry.
Invest in a rainfly or waterproof tent for camping trips to ensure a dry and comfortable sleeping environment. Our Bear Den Tents are waterproof and feature a handy vestibule to keep storage items dry!
Bring a portable stove to cook meals and warm up beverages, like our Deluxe 2-Burner Propane Stove! Use it outdoors under our Bear Den Gazebo to keep dry.
If you'll be travelling in your RV, it's important to prep your vehicle for rainy or cold weather so the drips stay out and you stay cozy:
Check your RV's weather stripping to ensure it's in good condition and doesn't allow water to seep in.
Make sure your RV's roof is free of leaks by inspecting it for any cracks or holes that could allow water to get inside.
Consider using an RV cover or installing skirting to protect the underside of your RV from rain, snow, and wind.
Here are some additional ways you can keep warm and dry while camping: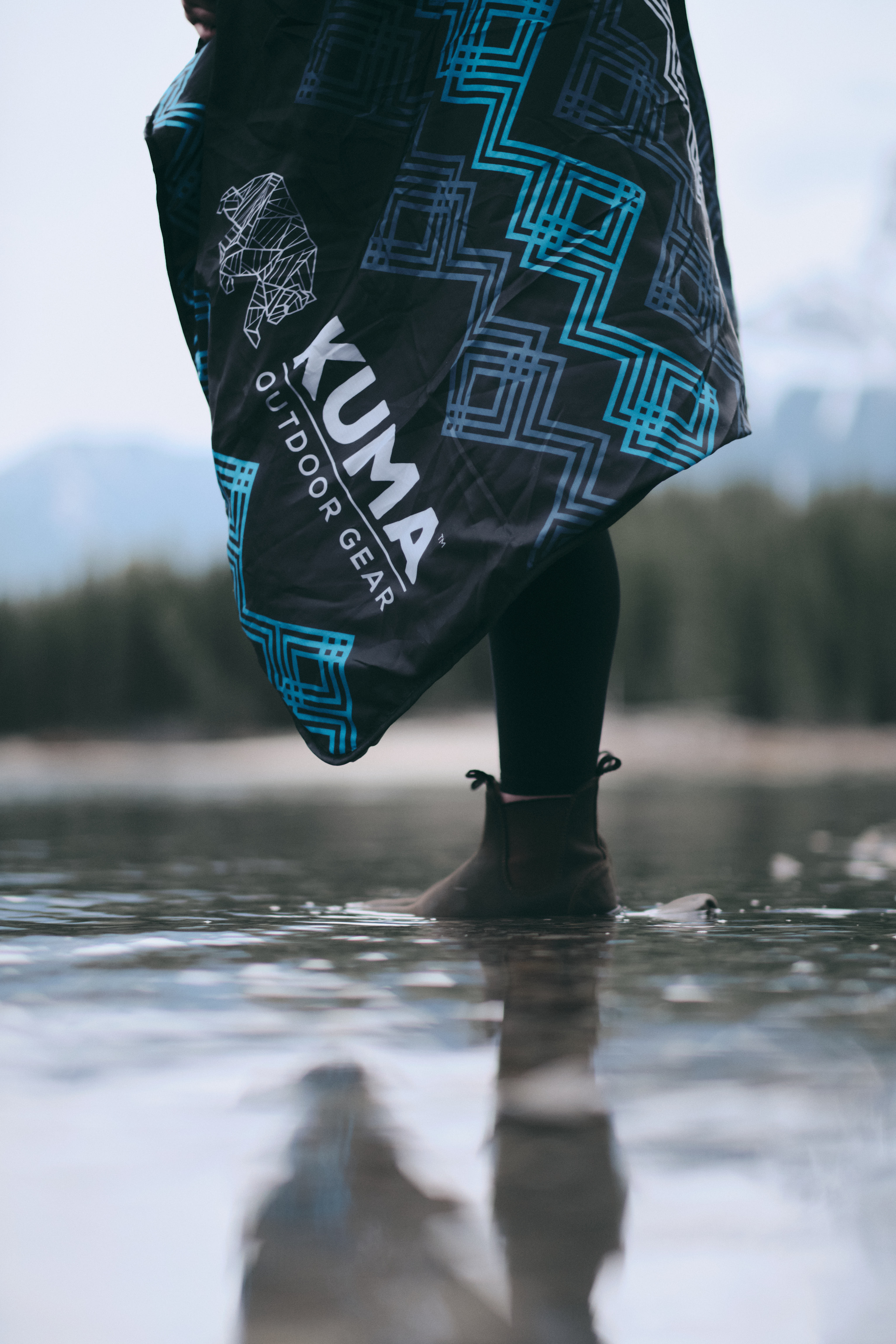 Bring easy-to-make hot beverages like bagged tea or individual packets of hot chocolate to warm you up from the inside out.
Use hand warmers or pocket warmers to keep your hands and feet toasty warm.
Set up a shelter to protect you from the rain that still allows you to enjoy the outdoors – like our Keep It Cool Instant Shelter or our Bear Den Gazebo!
Keep a few camping blankets around and set up a heated chair for camping to keep things extra cozy!
Use an umbrella (if you have the room) or rain poncho to protect you from the rain while walking or hiking.
Remember to take breaks indoors or in a shelter to warm up and dry off if you're feeling wet or cold.
Adding the above tactics to your overall keep-warm strategy will ensure you're able to maximize this year's camping season as much as possible!
Stay Connected With Our #KumaKommunity!
Make sure to follow Kuma Outdoor Gear on Instagram, Twitter, and Facebook to stay up to date on giveaways, our favourite camp-friendly recipes, how-to guides, and new product drops.
Want to share your adventure? Use the hashtag #KumaKommunity to show us your favourite Kuma gear in an encouraging and inspiring online space!
Share Article