Kuma Kitchen Series - Camping Mac & Cheese: 3 Delicious Recipes To Enjoy Outdoors
Craving comfort food while embracing the great outdoors? Look no further! Our latest video brings you three mouthwatering ways to whip up the ultimate Mac and Cheese to enjoy outdoors! Whether you're nestled in the woods, by the lakeside, or around a cozy campfire, these recipes are a guaranteed hit. From classic to creative, we've got your cravings covered!
Recipe 1: Classic Mac and Cheese (or check out our popular One Pot Mac and Cheese Recipe from last summer's series!)
Recipe 2: Gochujang Mac & Cheese
Recipe 3: Bacon, Jalapeno Mac & Cheese
Whether you're a seasoned camper or just discovering the joys of nature, these Mac and Cheese recipes will make your camping experience even more memorable. So grab your camping gear and your appetite, and let's get cooking outdoors!
Ingredients:
Base Mac & Cheese
2 cups whipping cream
2-3 cups chicken broth
400g grated old cheddar
400g pasta (elbows or shells)
2 tbsp butter
2 tbsp flour
1 tbsp minced garlic
1 small diced yellow onion
1 pint cherry tomatoes
2 tsp dried mustard
2 tsp smoked paprika
2 tsp pepper
Gochujang Mac & Cheese
¼ cup gochujang
1-2 tbsp gochugaru
2 tbsp butter
3 green onions
Bacon, Jalapeno Mac & Cheese
1 lb bacon
2 Jalapenos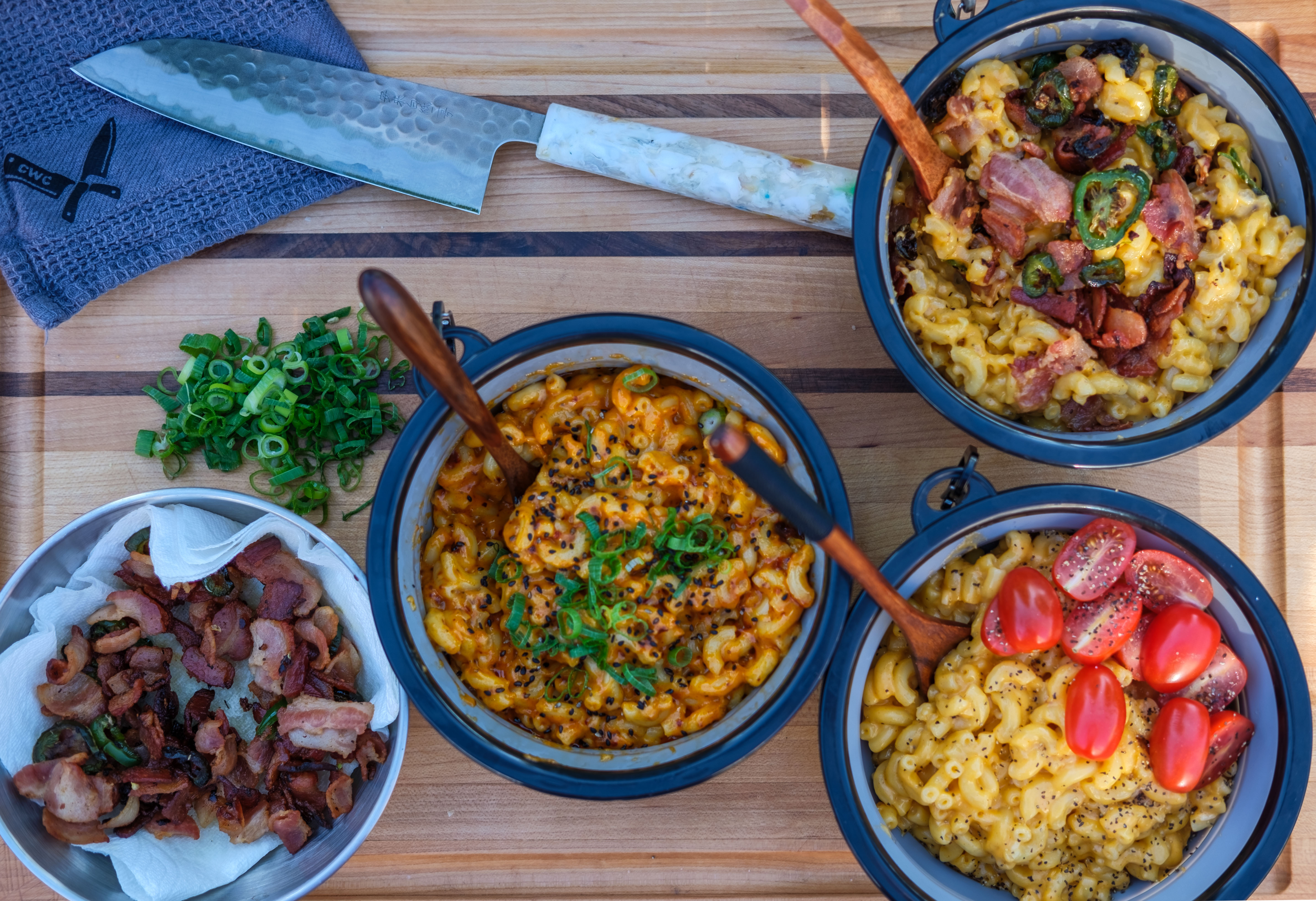 Preparation:
Start by mincing your garlic, and dicing your onion.
In a medium pot over medium-high heat, add in your butter, onions and garlic. Saute just until fragrant, and butter is still foamy, then add in the flour.
Whisk this together to create a roux. Having the garlic and onions in here will help make this a bit easier, we are looking for everything to come together in one semi-thick mass, about 1-2 minutes. This is what is going to thicken our creamy sauce. Careful not to let the flour burn.
Pour in the chicken broth slowly, whisking to incorporate. Start with 2 cups.
Pour in the whipping cream, whisk to incorporate.
As soon as it is one smooth sauce, pour in all of your dried pasta. Stir to combine and then drop the heat to low and cover with a lid. Cooking for about 10 minutes, until the pasta is to your liking. Check on this every 4-5 minutes, giving a quick stir to make sure the noodles are not sticking to the bottom of the pot. If the heat is too high you may need to add a little more chicken broth to the pot at this time.
As soon as the noodles are done, turn off the heat, and then add in the paprika, dried mustard and pepper. Stirring to incorporate.
Then fold in the grated cheese and then give it a taste and add some salt if needed.
Serve while hot, this is when the sauce is the creamiest. With regular mac & cheese, some sliced cherry tomatoes lightly salted on top are amazing.
If making the Gochujang version of mac & cheese, as the noodles boil, combine the gochujang, gochugaru, butter and thinly sliced green onions in a small sauce pan. Cook on medium until the butter has melted and then stir until everything is combined. Pour this mixture into the mac & cheese as soon as the cheese has been folded in, or add 2-3 spoonfuls to an individual bowl of plain mac & cheese.
If making the bacon, jalapeno version of mac and cheese, as the noodles boil, add 1lb bacon sliced into 1 inch pieces to a cold cast iron pan. Bring the pan up to medium/high heat, flipping the pieces of bacon to cook all sides. After the first flip, add in 1-2 thinly sliced jalapenos. Cook until the bacon is crispy and add directly to the whole pot of mac & cheese once the cheese has been folded in. Or a few spoonfuls to an individual bowl.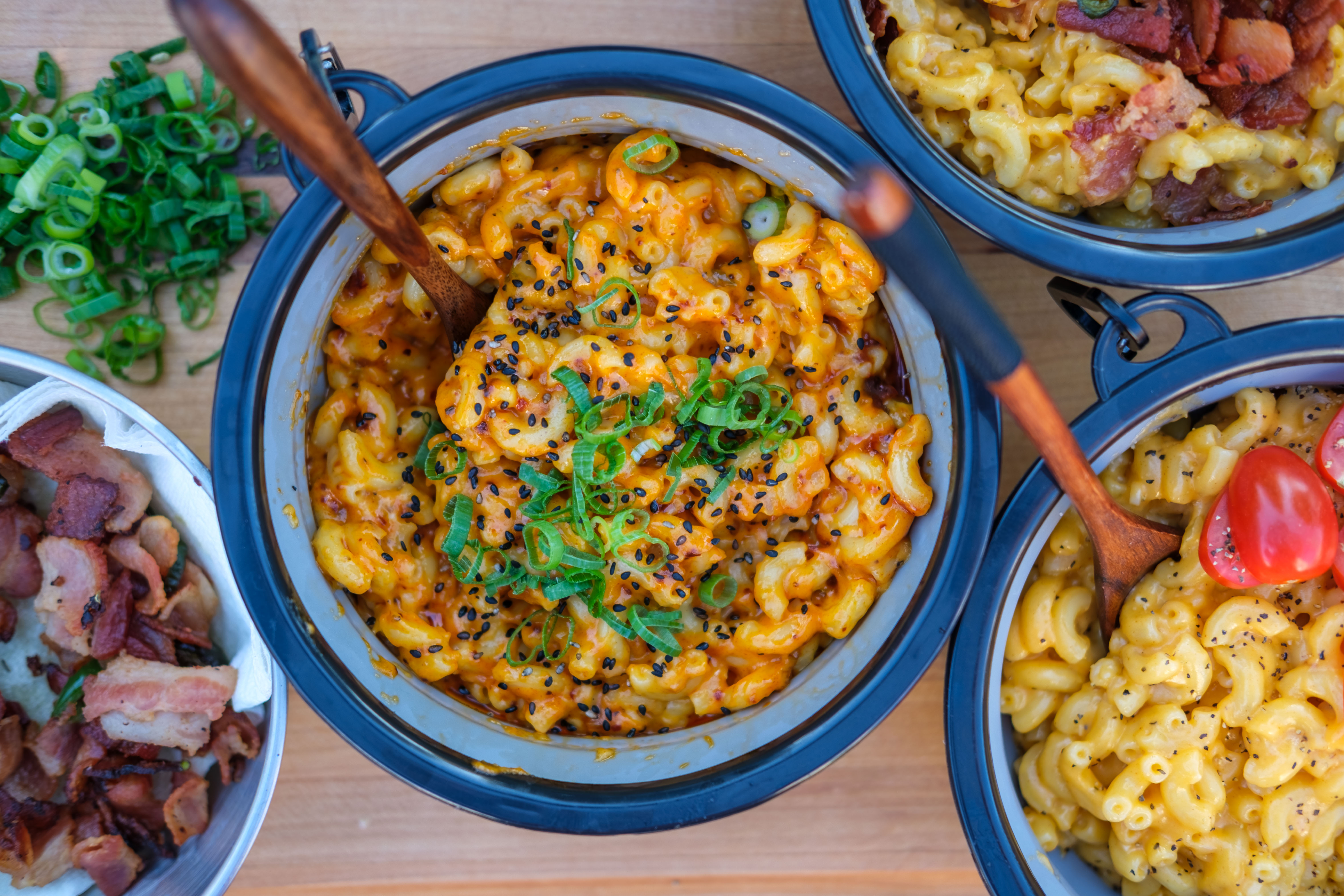 Tips:
1. It is very easy to scale up by using a large pot and doubling the recipe.
2. If your sauce looks a little thin after folding the cheese in, cover with the lid and let sit for 5 minutes, it will thicken right up.
Stay Connected with our #KumaKommunity!
Make sure to follow Kuma Outdoor Gear on Instagram and Facebook to see more content like this, stay up to date on giveaways, our favourite camp-friendly recipes, and new product drops.
Want to share your adventure? Use the hashtag #KumaKommunity to show us your favourite Kuma gear in an encouraging and inspiring online space!
Share Article