Kuma Kitchen - One Pot Mac & Cheese
Comfort camping food even when it's raining? Why not!
There is nothing like sitting in your Bear Den Gazebo enjoying a big bowl of ooey gooey Mac & Cheese listening to the rain falling outside. This meal can be made on a portable propane stove (like our Deluxe 2-Burner Propane Stove seen HERE) even when it's raining! So don't wait for the perfect weekend to get out camping - book that trip now!
Ingredients:

2 cups whipping cream
2 cups chicken broth
400g grated old cheddar
400g pasta (shells)
2 tbsp butter
2 tbsp flour
1 tbsp minced garlic
1 small diced yellow onion
1 bundle curly parsley
2 tsp dried mustard
2 tsp smoked paprika
Salt & pepper
1 lb bacon
Equipment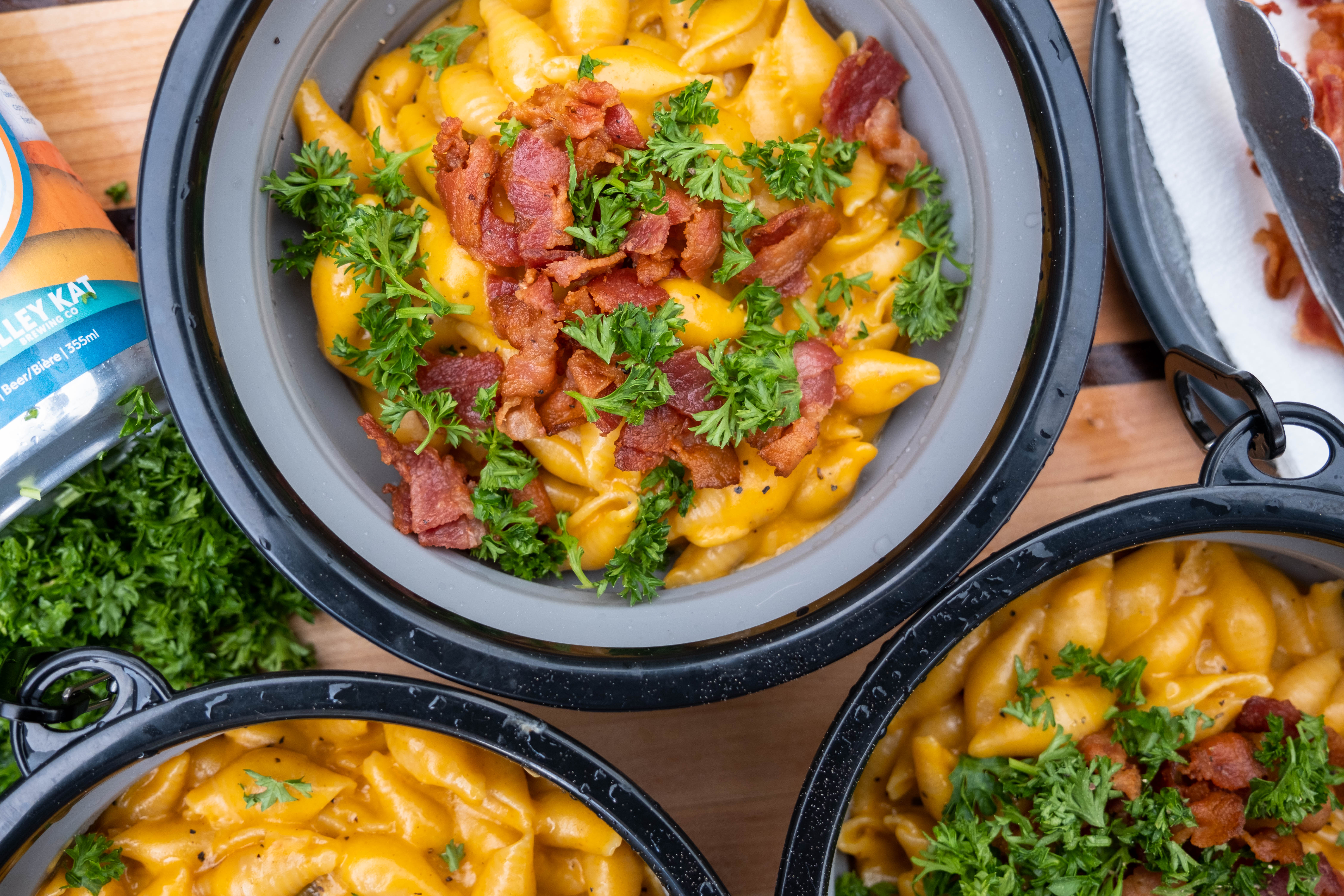 Preparation
Start by mincing your garlic, dicing your onion, and rough chopping your parsley.
In a medium pot over medium-high heat, add in your butter, onions and garlic. Saute

just until fragrant, and butter is still foamy, then add in the flour.

Whisk this together to create a roux. Having the garlic and onions in here will help make this a bit easier, we are looking for everything to come together in one semi-thick mass, about 1-2 minutes. This is what is going to thicken our creamy sauce. Careful not to let the flour burn.
Pour in the chicken broth, whisk to incorporate.
Pour in the whipping cream, whisk to incorporate.
As soon as it is one smooth sauce, pour in all of your dried pasta. Stir to combine, and then add in the paprika and dried mustard, again stirring to incorporate.
Keep stirring until it is about to start boiling and then drop the heat to low and cover with a lid. Cooking for about 10 minutes, until the pasta is to your liking. Watch the heat on your pot as we do not want it to boil over.
While the pasta cooks, chop up the bacon into about 1" pieces, and fry in a cast iron pan.
As soon as the noodles are done, turn off the heat and fold in the grated cheese and then give it a taste and add some salt and pepper if needed.
Serve while hot, this is when the sauce is the creamiest. Top with bacon, and some fresh parsley. Pair with a Switchback Session Ale!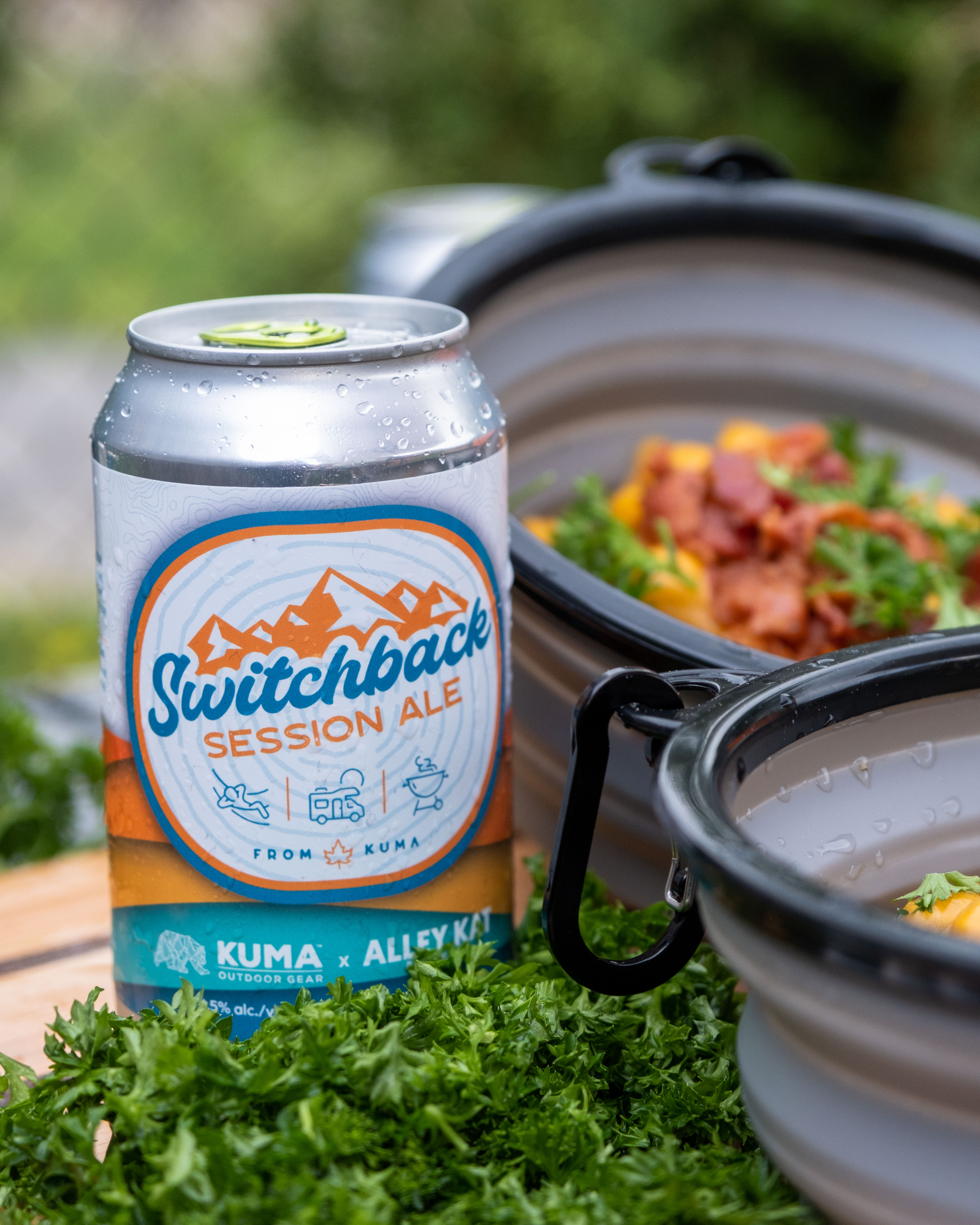 TIPS
Bacon goes great with this mac & cheese, but really any leftover protein will go great! Leftover hotdogs or smokies are delicious as well!
It is very easy to scale up by using a large pot and doubling the recipe.
If your sauce looks a little thin after folding the cheese in, cover with the lid and let sit for 5 minutes, it will thicken right up.
This is the meal for those days when you're camping and it is raining, 1 pot is all you need!
STAY IN THE LOOP WITH THE #KUMAKOMMUNITY!
Follow the #KumaKommunity hashtag to stay on top of contests, product giveaways, outdoor inspiration, and more! Don't forget to share your camping culinary adventures using the hashtag too! Follow Kuma Outdoor Gear on Instagram, Twitter, Pinterest and Facebook.
Share Article