Kuma Kitchen - Campfire Mediterranean Skewers with Halloumi
Move over hot dogs and smokies - this skewer recipe is going to be your new go-to campfire meal. Prep this one at home before you leave to make an easy, delicious meal on your next camping adventure!
Ingredients:
350g cremini mushrooms
2-3 bell peppers (red & green)
1 large red onion (2 if small)
500g Halloom (cows milk) or Halloumi (sheep/goat milk)
600g baby potatoes
1 bag of pitas
Olive oil
Salt
Skewers Marinade
1 tbsp each (oregano, thyme, basil, parsley, dill, salt)
2 tsp each (garlic powder, onion powder, black pepper)
Juice of 1 lemon
3-4 tbps extra virgin olive oil (enough to coat everything)
Tzatziki
500ml plain greek yogurt
2 tbsp extra virgin olive oil
3 microplaned cloves of garlic
Juice from ½ a lemon
¼ cup dill (fresh or freeze dried)
2 tsp black pepper
1 tbsp salt (for the cucumber)
1 cup grated cucumber (½ an english cucumber, or 3-4 baby cucumbers)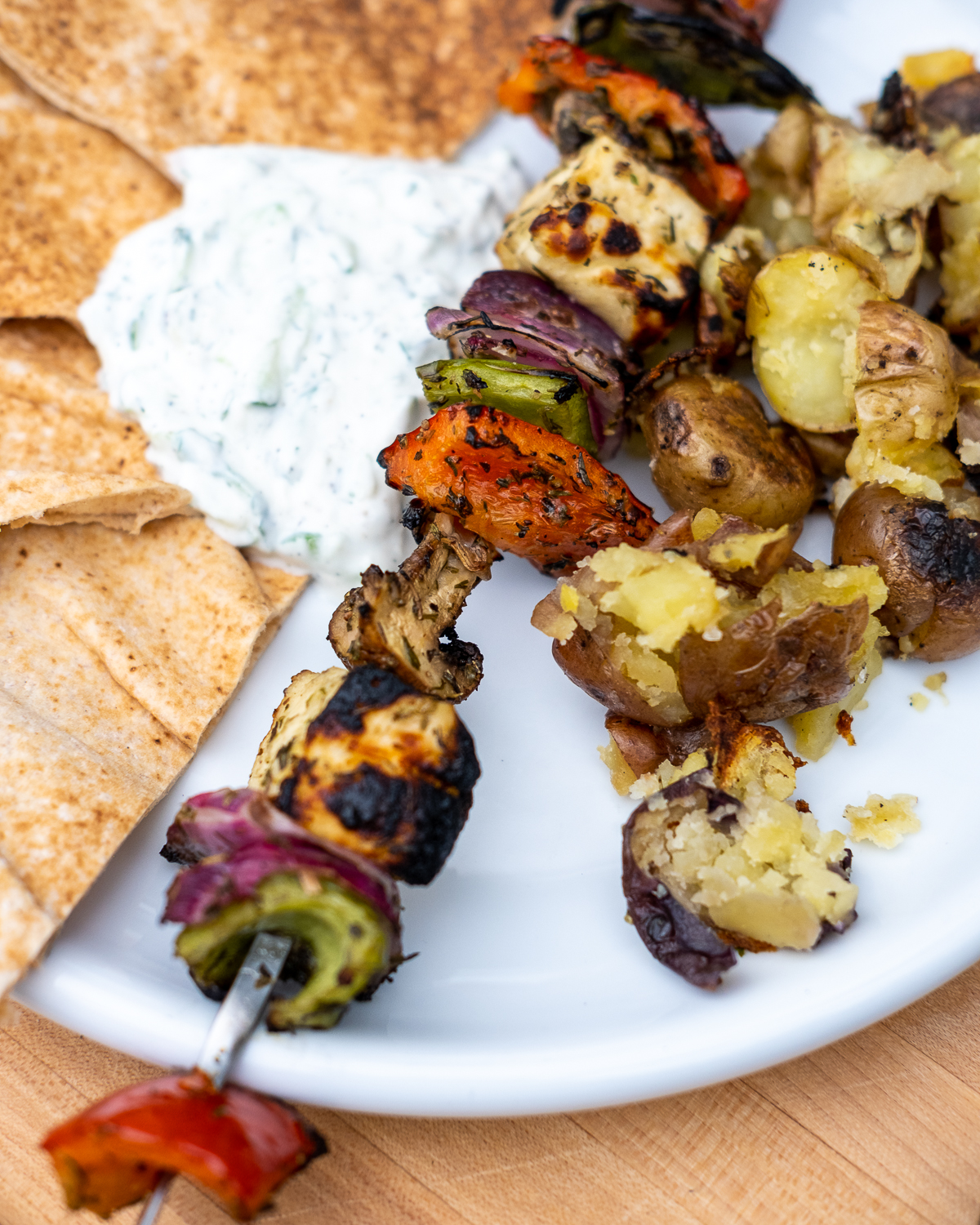 Preparation:
Start by chopping everything for the skewers. Halving the mushrooms top to bottom. Then chopping the bell peppers, onion and halloumi into large 1" squares and placing in a large bowl.
Add your potatoes to a fire safe pot or pan, and cover with enough cold water to just cover the tops by about 1 cm. Bring up to a boil (make sure to maintain at least a simmer) and cook for another 15-20 minutes until easily pierced by a fork.
While the potatoes cook, combine all of the ingredients listed above for the skewers marinade and toss to evenly coat. Add enough olive oil to ensure everything is evenly coated in the herbs. Set aside and let marinate for 20-30 minutes.
Now starting on the tzatziki, grate your cucumber and spread it out evenly on a couple of sheets of paper towel and sprinkle with salt. Place another sheet of paper towel on top and press down, set this aside while we finish the rest. This is to draw some of the moisture out of the cucumbers so the tzatziki is not watery.
In a small bowl combine the greek yogurt, olive oil, microplaned (or minced) garlic, lemon juice, dill and black pepper. Mix to combine, and then add the cucumber in and mix until it is all evenly incorporated. Do not add any additional salt until you have tasted it first, the salt we put on the grated cucumbers should be enough.
By now the potatoes should be ready to be removed from the fire. Drain the water, and smash the potatoes with a burger press, or a spatula, or even the bottom of a water bottle! We want to press them down about half way, not mashed, just enough so that we are going to get some nice crispy edges when we put the pan back on the fire.
Drizzle with 1-2 tbsp olive oil and sprinkle with salt.
Load your skewers up with mushrooms, peppers, onions and halloumi.
If you have a grill basket it will work great to hold all of your skewers and make flipping them at the same time easy. If not, they can be cooked on a grate over the fire, just make sure it is one that is food safe. A lot of the grates on campsite fire pits are fine to put a pan on, but I would not want to have my food directly touch them.
Put the pan of potatoes back on the fire to crisp up while you cook the skewers. Tossing the potatoes once after about 5 minutes, and flipping the skewers to ensure they cook evenly. We definitely want a little bit of char and colour! Halloumi has a very high melting point so you do not need to worry about it melting and dripping into the fire. The skewers will take about 8-10 minutes on the fire.
Once everything is finished cooking, plate up with some potatoes, skewers, some pita, and a generous portion of tzatziki. It goes with everything on the plate! You can eat everything separate or open the pita up and fill it!
TIPS:
You can prep a lot of this meal ahead of time if you want to save time at the campsite. The vegetables and halloumi for the skewers can all be chopped and tossed in the marinade 1-2 days ahead of time, storing in a large tupperware container works great as you can shake it to coat.
The tzatziki

can also be made ahead of time, it will keep for 3-4 days if kept cold. The garlic flavor does get stronger as it goes, so if you are making it a couple of days ahead and aren't huge garlic fan maybe cut it to 2 cloves.

If you don't have access to a fire or a grill, you can skip the skewering and toss all of the vegetables and halloumi

in a cast iron pan and cook it on the

stovetop

.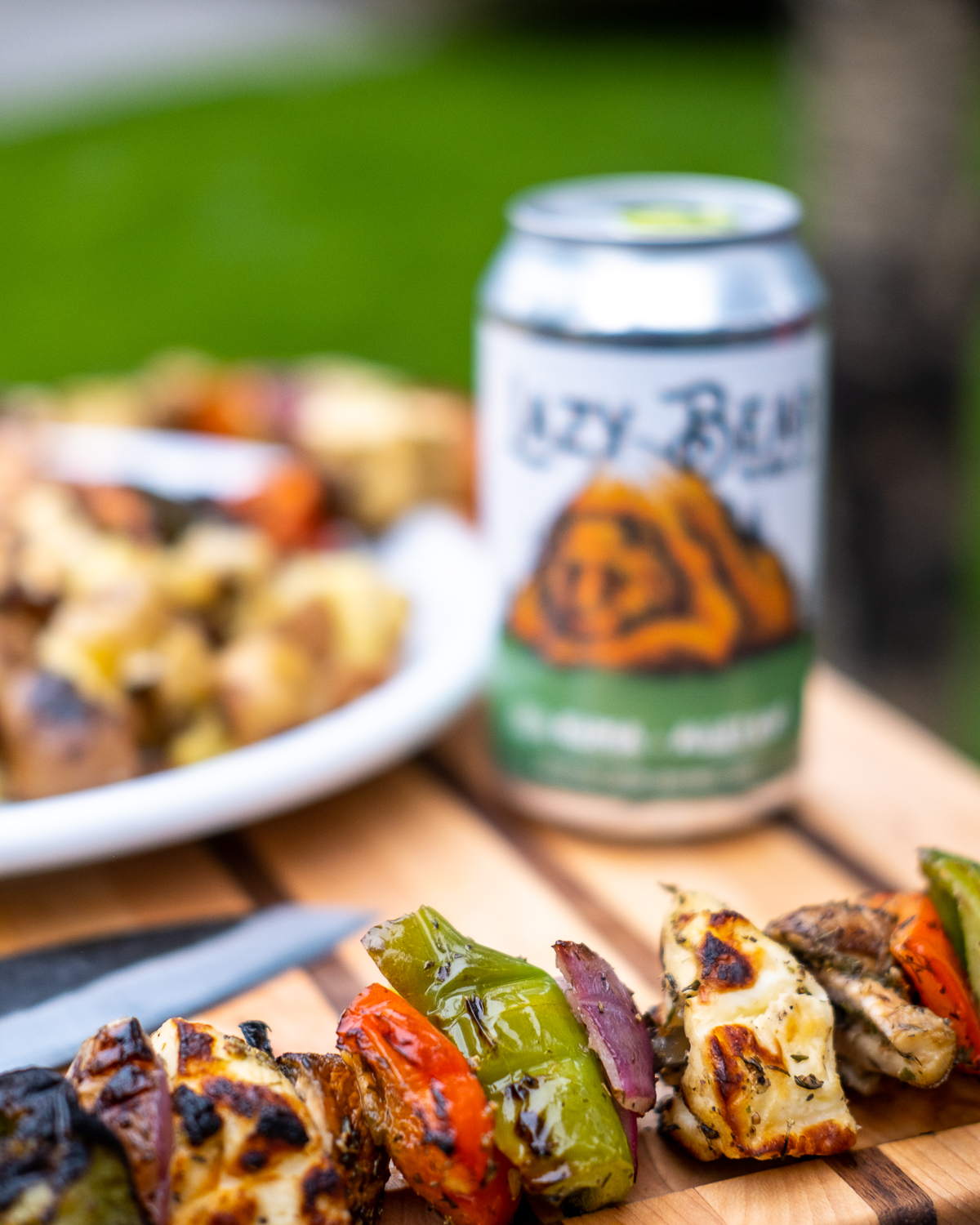 Share Article