Who doesn't love a cool drink and a nice sun soak after playing at the beach? With summer in full swing, it's a great time for a getaway.
Whether you're visiting Vancouver's Kits Beach or are road-tripping to Lake Louise, there are plenty of great spots to soak up the sun with family and friends.
No matter where you are, it's always important to stay comfortable, hydrated, and protected from the sun so you're not sizzling in the sand! The Kuma team has put together our favourite beach essentials for your next weekend adventure.
Cool Off With Some Shade!
When enjoying the beach, be aware of the risks of sunburns and dehydration. The good news is, you can help avoid sunburns with a shade structure.
Here are our top picks:
Keep It Cool Shelter
The Keep It Cool Shelter is a great way to keep yourself cool and find some shade wherever you want to set it up. Bonus - it's useful for your canine friends too—especially if you want to bring your dog camping or to the beach with you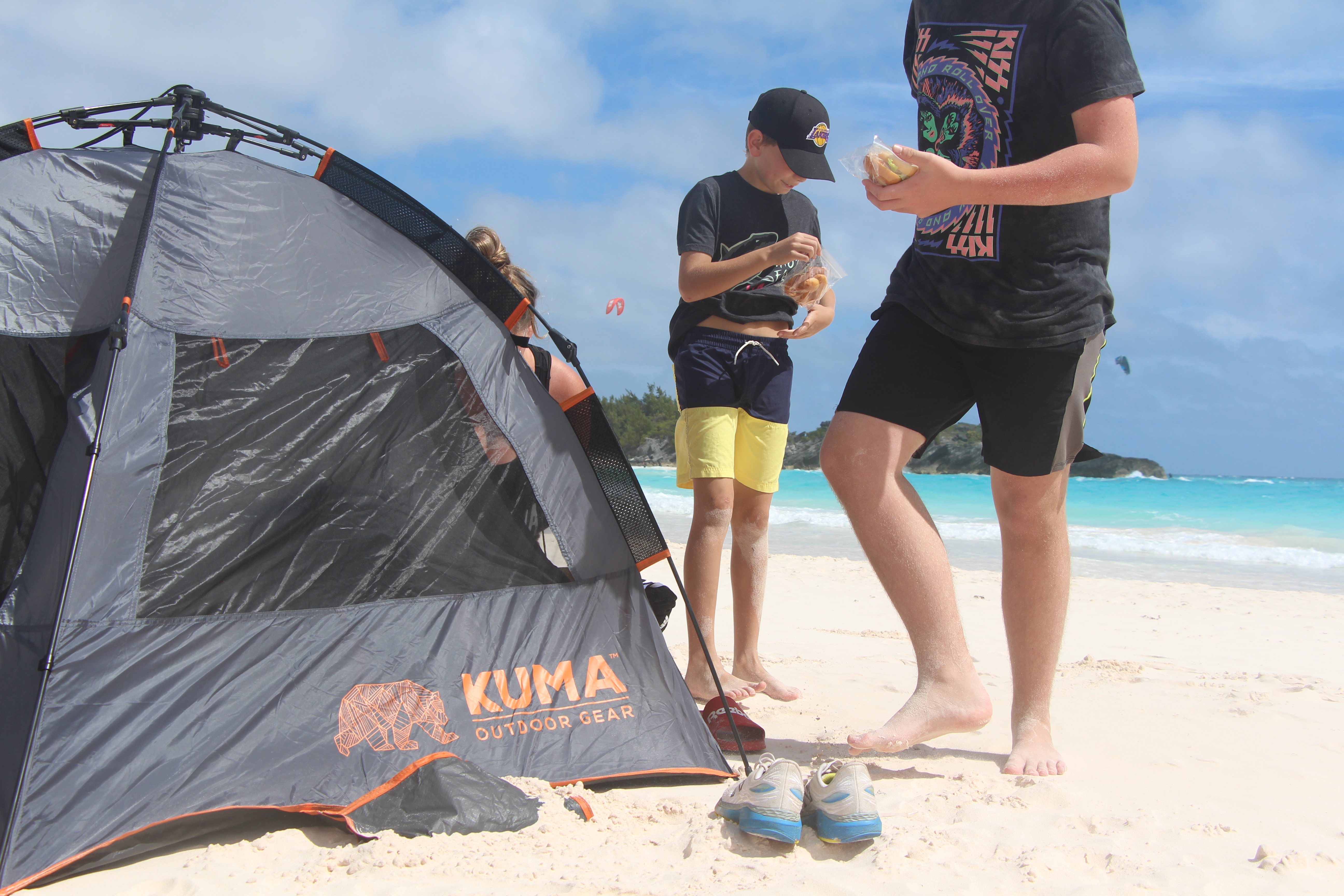 With the Keep It Cool Shelter, you can set it up in minutes thanks to the instant pop-up tabs. The fabric is also designed with 50+ UV resistance to keep you from getting burnt. It even works as a tent if you're looking for a quick and easy summer tent to pack!
Plus, it's easy to carry with you due to its lightweight design and portability. It's also easy to assemble and disassemble, so you can take it anywhere!
Bear Den Gazebo
UV resistant and durable, our Bear Den Gazebo takes less than a minute to assemble and easily fits over a picnic table, so you can enjoy a midday picnic without worrying about hot sun and flies!
Camping gazebos are perfect for the beach - they're convenient, large, and ours features dual vertical side zippers, which creates a large roll up wall opening to enjoy that view!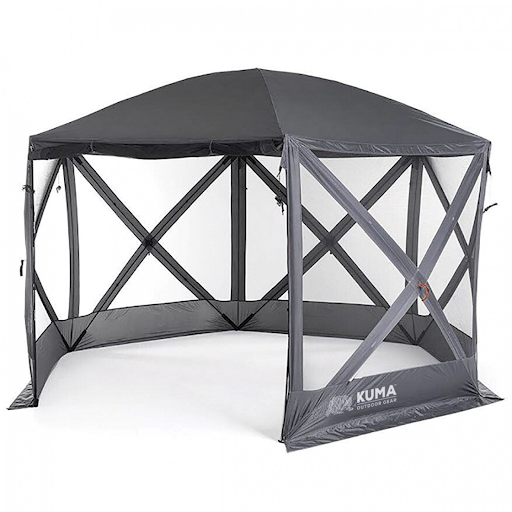 Protect Your Skin!
Even if you're at the beach for a few hours, it's important to be mindful of how much sun exposure you get.
Excessive sun can lead to sunburn, dehydration, heat stroke, and other serious side effects. Having a sun shelter makes it easy to take breaks from the heat and sun whenever you need.
Our Top Tips For Maximizing Beach Time:
If you're ready for some fun in the sun, here are our top eleven beach tips to get the most out of the last few weeks of summer:
Bring a beach mat: Camping blankets are great for beach days. We love the durable Kuma Kamp Blanket to catch a sunshine-filled nap on or enjoy a snack on. Having a blanket ensures that your towels aren't soaked, are readily available, and don't get covered in sand!
Bring a wagon! Our Bear Buggy Cart is perfect for transporting your cooler, some drinks, towels, firewood, and all beach essentials! The Bear Buggy is super durable and can carry up to 180lbs!
Pack your favourite chairs: Who doesn't love a comfy, retro-style chair? The Backtrack Low Chair is just the right size and style for a sunny beach day.
Stay hydrated: Pack plenty of water with our Bomber Bottle!.
Use mesh totes to carry things: No one likes bringing home buckets of sand, so opt for mesh bags instead so the sand stays at the beach.
Bring some entertainment: While swimming is great, don't forget the games too! Don't forget classics like Bocce Ball, Ladder Ball, or a simple deck of playing cards.
Use cupcake liners on unattended drinks: Bugs and wasps love those sugary drinks (probably more than you!) so carry cupcake liners to cover them if you're not drinking from them.
Bring a fire for nighttime: If you plan to hang out past sunset, starting a fire may be banned. Thankfully, propane fire pits like the Bear Blazer Fire Bowl are still allowed so you can cozy up, stargaze, and catch Perseids meteor shower - which is visible all of August!
Reapply sunscreen often: The general guidelines are to put on sunscreen every two hours and after exercise or swimming. As an extra precaution against the hot sun, be sure to wear a hat - our Backtrack Hats are perfect for keeping your head protected!
Leave no trace: If you bring it with you, take it with you. This Pop Up Waste Bin is a great option if you're going to remote beaches with no garbage bins on sight.
Bring some wet wipes: To avoid sandy feet, bring some wet wipes to use just before you get back in the car. You won't regret it!
The Essential Beach Checklist
There's always a moment just after you leave where you feel like you forgot something—we've been th
ere! So, before you hit the beach, make sure you've got the basics:
Sunscreen

Shade structure

Swimsuits and extra clothes

Sandals, water shoes, or flip flops

Sunglasses or sun hats

A beach blanket and towels

Drinks and snacks

Reusable drinkware

A cooler and ice

Lifejackets

First Aid Kit

Hand sanitizer

Wet wipes

Games and activities

Cash for concession stands
Optional:
Hit the Beach Fully Prepared
With a few more weeks of sunshine left, everyone wants to squeeze in a few more beach trips. Make sure you're fully prepared to stay safe and have fun with your family!
Stay Connected With Our #KumaKommunity!
Make sure to follow Kuma Outdoor Gear on Instagram, Twitter, and Facebook to stay up to date on giveaways, our favourite camp-friendly recipes, how-to guides, and new product drops.
Want to share your adventure? Use the hashtag #KumaKommunity to show us your favourite Kuma gear in an encouraging and inspiring online space!
Share Article