Nothing beats the chill of a fresh fall morning and a hot cup of coffee. Across North America, there are plenty of beautiful campsites to enjoy, especially in September. Plus, you won't have to worry as much about the heat as you enjoy some iconic Fall Foliage!
As long as you pack a sweater and galoshes, camping is a year-round activity. There are even some great fall music festivals to enjoy - like Rifflandia in Victoria, BC, or the Dirtybird Campout in Waterford, California.
If you're a fan of the more luxe things in life, you can transform any tent or trailer into a glamping experience - or 'glamorous camping.' Glamping is an accessible, comfortable way to enjoy the beauty of nature while still being as comfortable as you would be at home!
Now, wrap a cozy blanket around you and sip on a hot beverage, we're going to dive into what glamping is and provide the top Kuma tips for maximizing the glamping experience.
Glamping vs. Camping: What's the Difference?
Traditionally, camping involves venturing into the wilderness and sleeping overnight in a tent, hammock, RV, or other outdoor structure - depending on how much you like to rough it!
In most cases, campers go into the woods with the basic necessities - perhaps with an extra item or two.
As a recreational activity, camping has been A Thing since the 1880s, when people in the UK would camp along the river Thames.
More recently, glamorous camping has risen in popularity. Similarly to camping, glamping involves going into nature overnight. However, the difference is that you're usually sleeping in an RV, a large luxurious tent, or a geodesic dome structure.
The idea is to bring the comforts of home with you on the road. There are even 'glampgrounds' where guests can stay in domes or cabins with all the amenities you'd find in a hotel - plus access to watersports, campfires, and more.
Glamping is also a fantastic way for nature lovers of all experience levels to get out in the fresh air!
Kuma Tips: Glamping 101
Want to bring all the luxuries of home or hotel outdoors? You'll want to check out our list of glamping essentials. Check it out!
#1 - Heated Camp Chair
The best part of autumn stargazing is the canopy of blazing celestial life; the worst part is the chill.
The solution? Our heated camping chair! We love the Kuma Lazy Bear Heated Chair to keep warm during those star-studded chilly evenings and for that early morning coffee date with the rising sun.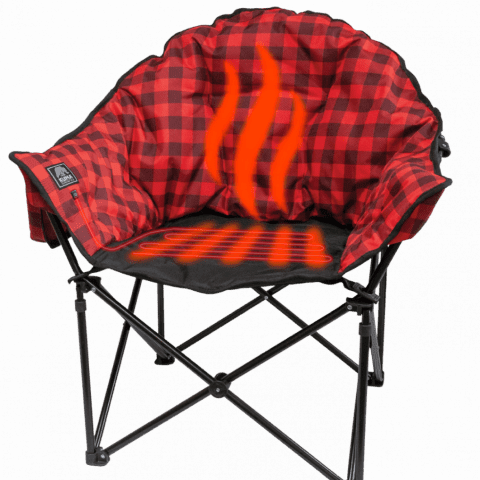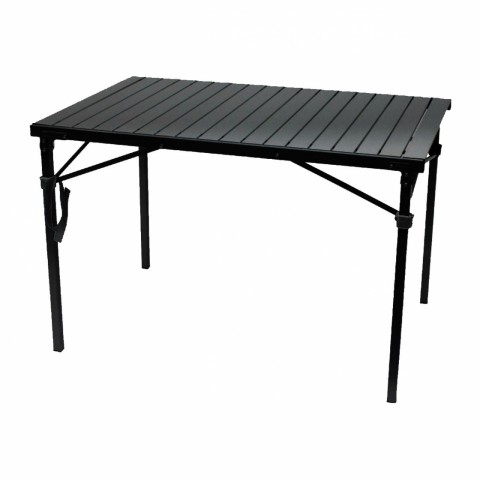 #2 - Folding Camping Table
Whether you want to set up your laptop for a movie or just as a comfortable place to eat, the Bear Necessity's Table is a great choice. It's easy to set up and has a durable powder-coated aluminum frame that will last you for years to come.
#3 - Outdoor Camping Kitchen
If you're glamping, a functional outdoor space to cook that gorgeous breakfast fry up is essential - and the Busy Bear Camp Kitchen is the solution.
With all that prep space, you'll have enough space to try out some awesome rustic recipes, like the Kuma Kitchen's delicious Chili & Cornbread!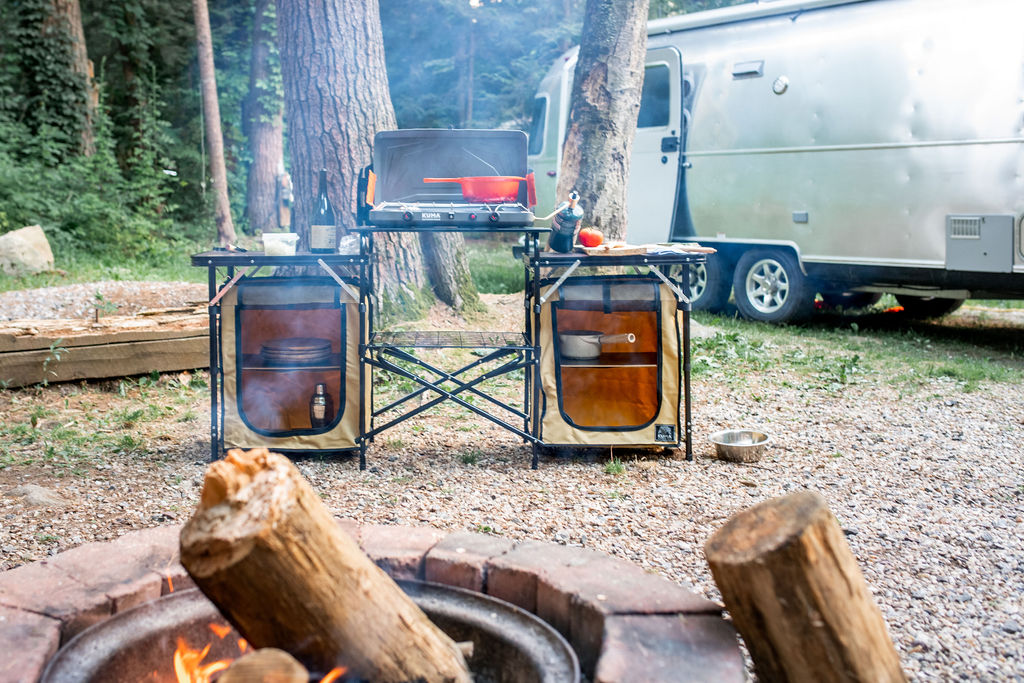 #4 - Camping Gazebo
Avoid the rain and find some shade with the Bear Den Gazebo. Because of its size, you can easily cover a picnic table to protect yourself from the elements and insects.
Plus, you can set it up in just 45 seconds (trust us, we tested it).
#5 - Camp Decor
Setting up your outdoor living space is half the fun of glamping! We love our Galaxy L&D Light Strip for just that.
The lights have over 100,000+ hours, so they'll last a long time. Plus, it's water-resistant enough to withstand that autumn rain!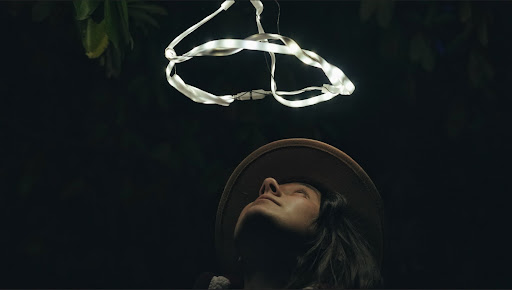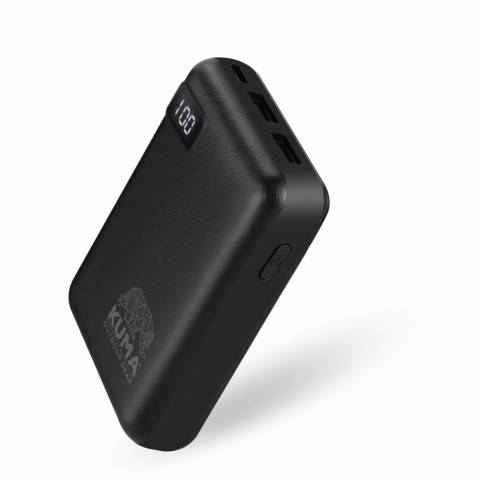 #6 - Portable Power Bank
Instead of running your car battery dry, pack one of our portable power banks, so your phone is always ready for a quick scroll through TikTok or a peek at what the #KumaKommunity is up to on Instagram!
Plus, you can use it to power other items like your wireless earbuds, a speaker, lights, or other small gadgets.
#7 - Warm Camping Hats
Don't let a little chill stop you from getting outdoors! Keep warm and stylish with our Fur Trapper Cap. Its soft faux fur lining will keep your ears nice and toasty.
Plus, it's available in 3 colours!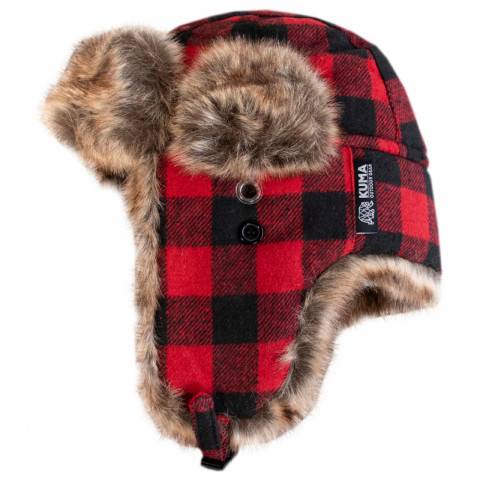 Get The Most Out Of Fall!
Just because summer is over doesn't mean you can't get away for a nature-packed weekend. We hope our tips inspire you to give glamping a try and make the most out of the outdoors!
Stay Connected With Our #KumaKommunity!
Make sure to follow Kuma Outdoor Gear on Instagram, Twitter, and Facebook to stay up to date on giveaways, our favourite camp-friendly recipes, how-to guides, and new product drops.
Want to share your adventure? Use the hashtag #KumaKommunity to show us your favourite Kuma gear in an encouraging and inspiring online space!
Share Article