Kuma Kitchen - Salted Caramel Campfire Brownies
As we start to wrap up our Kuma Kitchen series for the year, we thought we needed to share something sweet before we were done!
The perfect way to end a meal while camping in our opinion? Enjoying some ooey, gooey brownies topped with a salted caramel sauce - all made on the campfire!
Ingredients:

Brownies
¾ cup all-purpose flour
1 tsp baking powder
1 tsp salt
½ cup unsalted butter
½ cup cocoa powder
½ cup white sugar
½ cup brown sugar
2 eggs
2 tsp vanilla extract
½ cup chopped walnuts
½ cup semi-sweet chocolate chips
Non-stick cooking spray

Salted Caramel
1 cup white sugar
⅜ cup unsalted butter (just under half a cup, about 6 tbsp)
½ cup whipping cream
2-3 tsp salt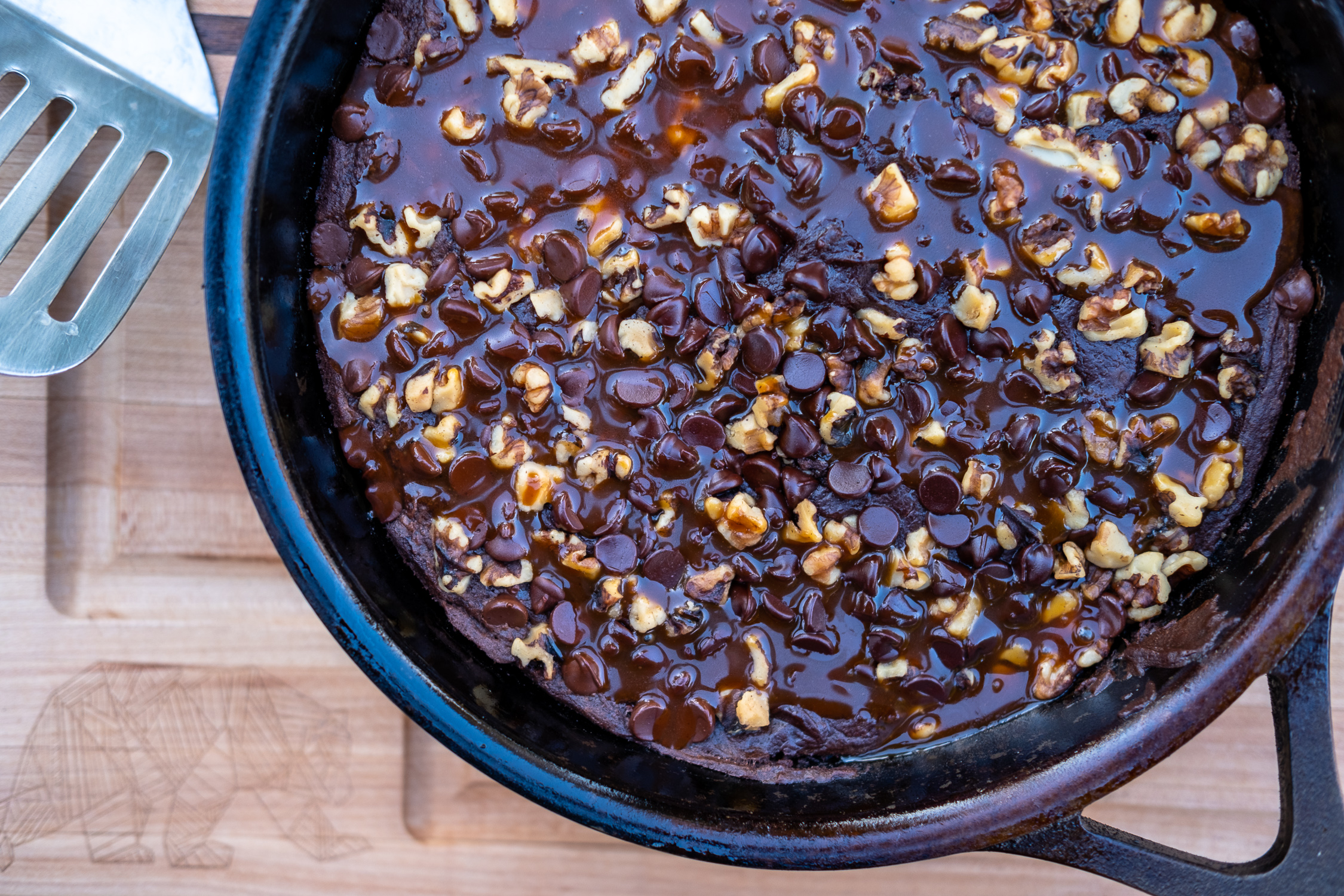 Preparation

1. Start by melting the butter for the brownies. Once it is melted add the white and brown sugar to it and mix until evenly incorporated.
2. Add in the vanilla and eggs, whisk until incorporated.
3. Combine all other dry ingredients (flour, baking powder, salt, cocoa powder), and then fold into the brownie mixture. 4. Mix until no more dry streaks of flour remain.
5. Grease a cast iron pan (very well) and then pour the brownie batter into it and spread it evenly. It's a fairly thick batter, so you will need to spread it with a spatula.
6. Sprinkle the top with chocolate chips and chopped walnuts (you can also mix these into the batter and just reserve a handful for on top)
7. Cover the pan with a tight fitting lid, or wrap the top of the pan with tin foil (we really don't want any steam escaping) and place over the fire.
8. We want a very low heat on the fire (think low setting on your stove). Moving the pan to an area that is more indirect heat. Bake for 20-25 minutes. Check at 20 by sticking a toothpick in. If when you take the toothpick out it has wet better, it needs to cook longer. Be very careful with the heat, this is a low and slow situation. If you have too high of heat, the bottom of the brownies will scorch by the time the rest of the brownie cooks through.
9. While the brownies bake, we will make some salted caramel. Place a small fire safe sauce pan on a section of low to medium-low heat on the fire, and pour in 1 cup of white sugar.
10. Let it cook for a couple minutes and once you start to see a little bit of browning happening around the edges start to whisk to toss everything around. The sugar will initially go very lumpy but as it melts down and you continue whisking off and on it will eventually melt into a wonderful caramel colours liquid. Have patience and continue to whisk, it will take 8-10 minutes. Careful not to let it burn, moving the pot around as you need to adjust where it is on the fire.
As soon as all of the sugar is melted, add in the butter, in 1 tbsp pieces. Immediately start stirring to incorporate the butter, but be aware that it will start bubbling like crazy! Nothing is wrong, just keep whisking rapidly to incorporate it.
11. As soon as the butter has completely incorporated remove from heat, add in the salt, and very slowly whisk in the whipping cream. Again, it is going to bubble rapidly and seem like it is not going to combine, but it will, go slowly and keep whisking. As soon as it is fully incorporated and silky smooth, set aside and let it cool. It thickens up a lot as it cools. To speed up the process, pour into a jar instead of leaving it in the hot pot.
12. Once the brownies are finished baking, drizzle with caramel and enjoy! The brownies are much easier to cut and serve once at least partially cooled, but it is pretty hard to turn down a warm brownie!
Tips
- Before you leave for your trip you can combine your flour, cocoa powder, baking powder and salt in a jar or ziploc bag so it is ready to go! Your very own boxed brownies!
- You can make the caramel ahead of time and reheat when camping, once made, it will keep for about a month in an airtight container.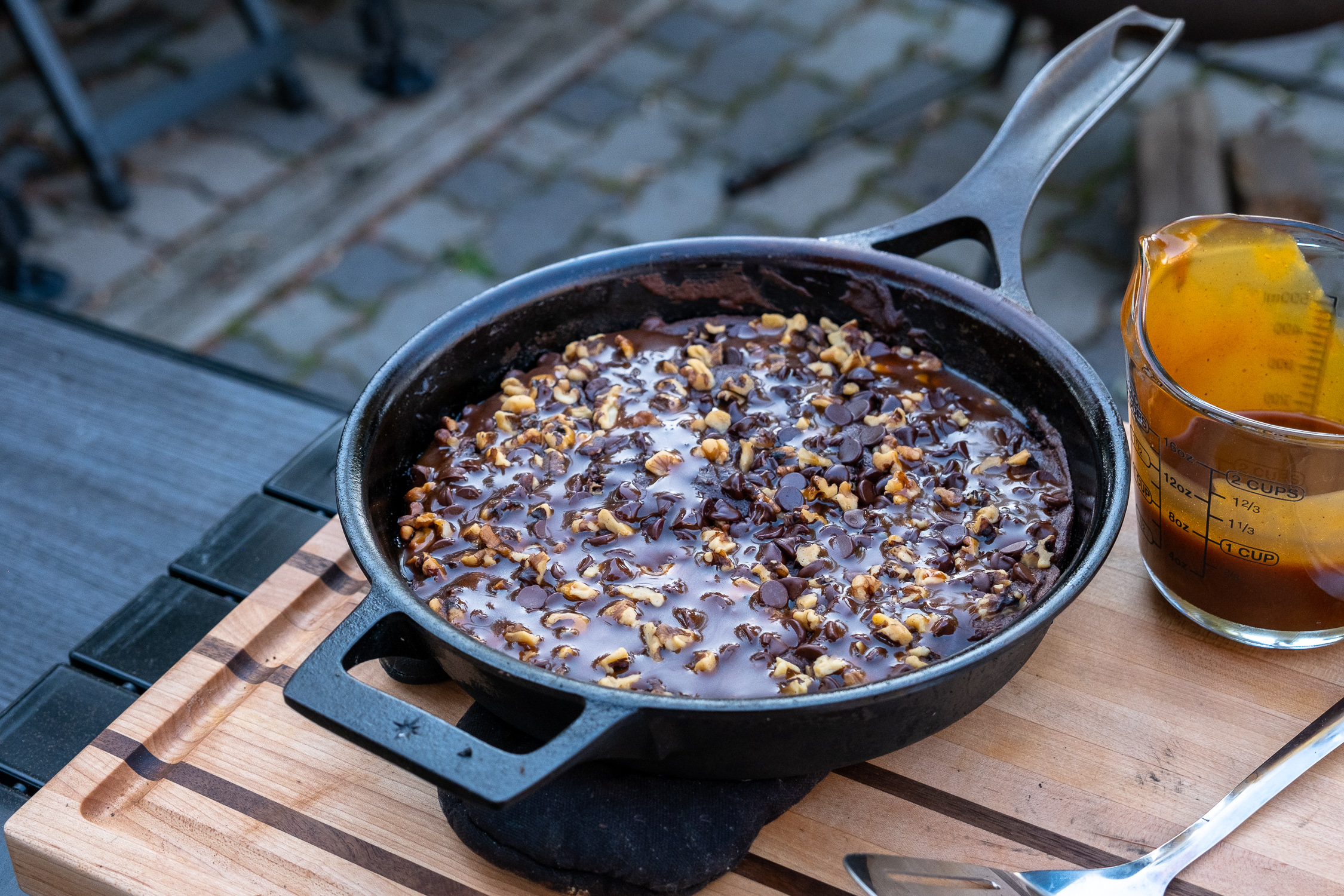 STAY CONNECTED WITH OUR KUMA KOMMUNITY
Make sure to follow Kuma Outdoor Gear on Instagram, Twitter, and Facebook to stay up to date on giveaways, our favourite camp-friendly recipes, how-to guides, and new product drops.
Want to share your adventure? Use the hashtag #KumaKommunity to show us your favourite Kuma gear in an encouraging and inspiring online space!
Share Article