Kuma Kitchen - Pulled Pork & BBQ Sauce
Start this dish at home and finish it at the campsite for an easy, delicious pulled pork sandwich complete with a homemade BBQ sauce you will be making on repeat!
Ingredients:
Pulled Pork
5 lb Bone In Pork Shoulder
1 large white onion sliced
6 cloves garlic roughly chopped
½ cup yellow mustard
1 can KUMA Kozy Bear Amber Ale
Sliced cheese (marble or cheddar)
Brioche Buns
Rub
2 tbsp Salt
2 tbsp Smoked Paprika
1 tbsp Cumin
2 tbsp Garlic Powder
1 tbsp Cayenne Powder
2 tbsp Onion Powder
2 tbsp Black Pepper
BBQ Sauce
½ red onion diced
3 cloves garlic minced
2 tbsp vegetable oil
1 can KUMA Kozy Bear Amber Ale
1 cup ketchup
⅓ cup brown sugar
¼ cup yellow mustard
3 tbsp worcestershire
2 tbsp honey
1 tbsp black pepper
Salt to taste (after reduced)
Coleslaw
½ head of green cabbage sliced
1-2 carrots sliced into matchsticks
½ red onion sliced thinly
1 bundle of green onions sliced
1 lemon juiced
½ cup mayo
2 tbsp sugar
1 tbsp dijon mustard
1 tbsp white vinegar
Salt & pepper to taste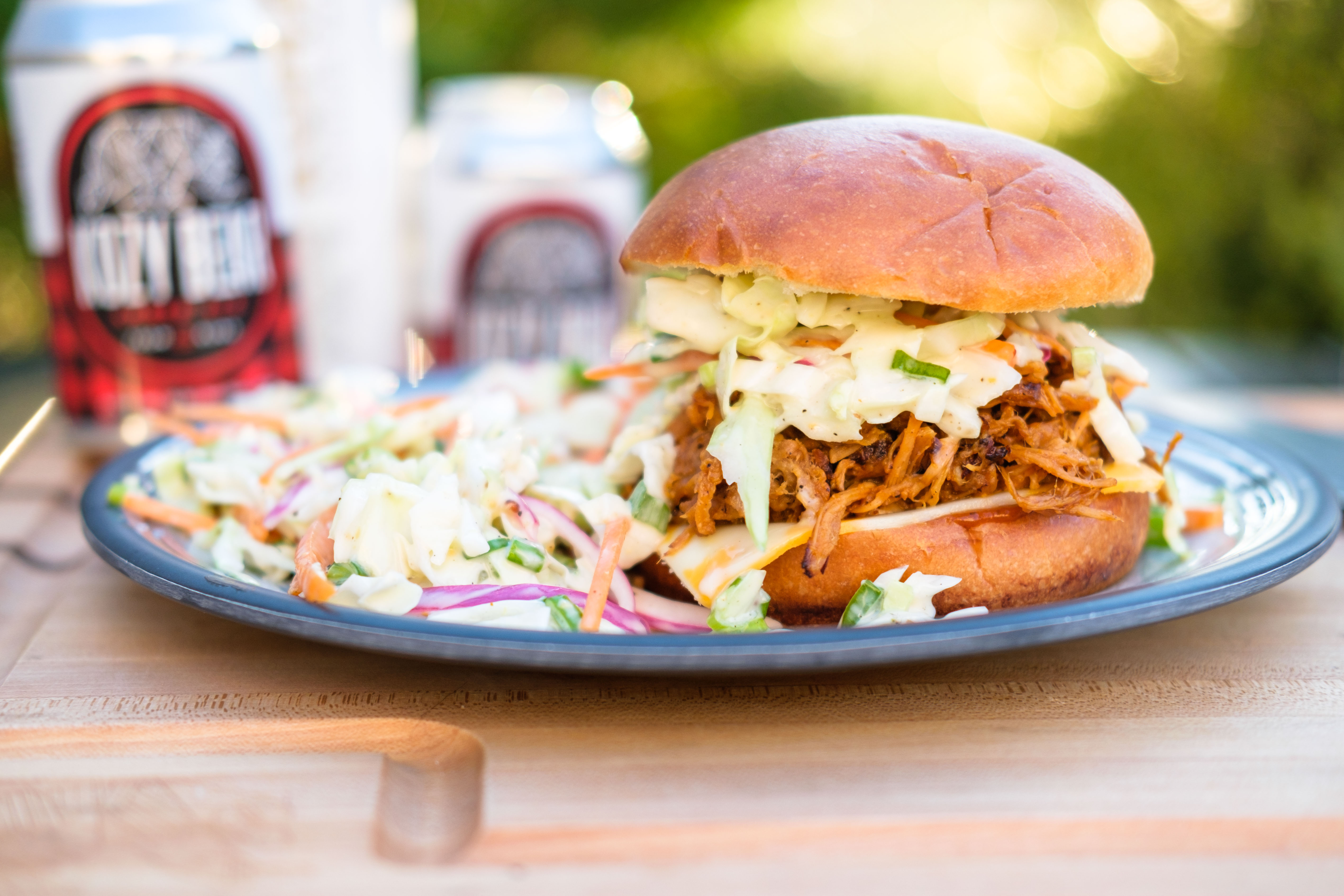 Preparation
At Home:
1. The pork and bbq sauce are both going to be made before your camping trip, and then packed up so that once you're camping all you need to do is reheat, and make the coleslaw.
2. Start the pulled pork by first removing any skin from the pork shoulder.
3. Combine all ingredients in the rub together in a small bowl.
4. Coat the entire exterior of the shoulder with yellow mustard, and then sprinkle to evenly coat with the rub.
5. Slice the white onion and chop 6 cloves of garlic and place into the bottom of your slow cooker.
6. Place the pork shoulder on top of the bed of onions and garlic.
7. Pour 1 can of KUMA Kozy Bear Amber Ale on top.
8. Cover, and cook on high for 8 hours.
9. Once finished, remove the pork and place into a large tupperware container and shred. Carefully removing any bones.
10. Reserve all the liquid from the bottom of the slow cooker in a separate container or jar. We will use this when we reheat the pork to ensure it's not dry.
11. Refrigerate both until ready to eat.
12. While the pork is cooking we will make the BBQ sauce, starting by dicing ½ red onion, and mincing 3 cloves of garlic.

13. Add these to a small saucepan with 2 tbsp vegetable oil. Saute over medium-high heat until semi-translucent.
14. Pour in 1 can of KUMA Kozy Bear Amber Lager, it will sizzle and then foam aggressively. Watch the heat, and simmer until the liquid is reduced by 50%, stirring every couple minutes.
15. Once reduced, add in ketchup, brown sugar, mustard, worcestershire, honey and black pepper. Stir to incorporate and then simmer to reduce again. By as little as 25% or as much as 50%. I like my bbq sauce fairly thick so I reduce by 50%, but if you like it a little thinner reduce by less. Keep in mind it will thicken up a little bit once it cools as well.
16. Once reduced, check your seasoning levels to see if you need to add any salt. We wait until it is reduced to do this because if we do it at the start, the saltiness gets more concentrated as it reduces.
17. Now either use an immersion blender to smooth the texture (important with the onions & garlic in there), or pour into a blender to do the same.
18. Now that it is smooth, pour into a jar and refrigerate until ready to use.
At the Campsite:
19. At the campsite chop all your veggies for the coleslaw, shredded cabbage, sliced onions, matchstick carrots.

20. Add all dressing components (lemon juice, mayo, sugar, dijon mustard, white vinegar, salt, pepper) and toss to combine.
21. Add some pulled pork to a preheated cast iron pan, and immediately add a few tbsp of the juices we reserved from the bottom of the slow cooker (may be semi-solidified). Toss to reheat the pork, adding more of the liquid if necessary to keep the pork moist.
22. Add a few tbsp of your bbq sauce to the pan and toss to coat the pork before serving.

23. Serve your sandwiches with extra bbq sauce on the bun, a slice of cheese, a generous portion of pork, and then some coleslaw right on top.
Tips
If you have a vacuum sealer, you can vacuum seal the cooked pork into a large bag with a smaller bag of the reserved liquid inside. This makes for super easy transportation and ensures the best quality.
Stay Connected with our Kuma kommunity
Make sure to follow Kuma Outdoor Gear on Instagram, Twitter, and Facebook to stay up to date on giveaways, our favourite camp-friendly recipes, how-to guides, and new product drops.
Want to share your adventure? Use the hashtag #KumaKommunity to show us your favourite Kuma gear in an encouraging and inspiring online space!
Share Article