It's time to pack away all your summer camp gear. Yup, everything from your folding camping table to your summer tent. After all, winter is coming. With the temperatures dropping, most campers are packing up their summer equipment for the season.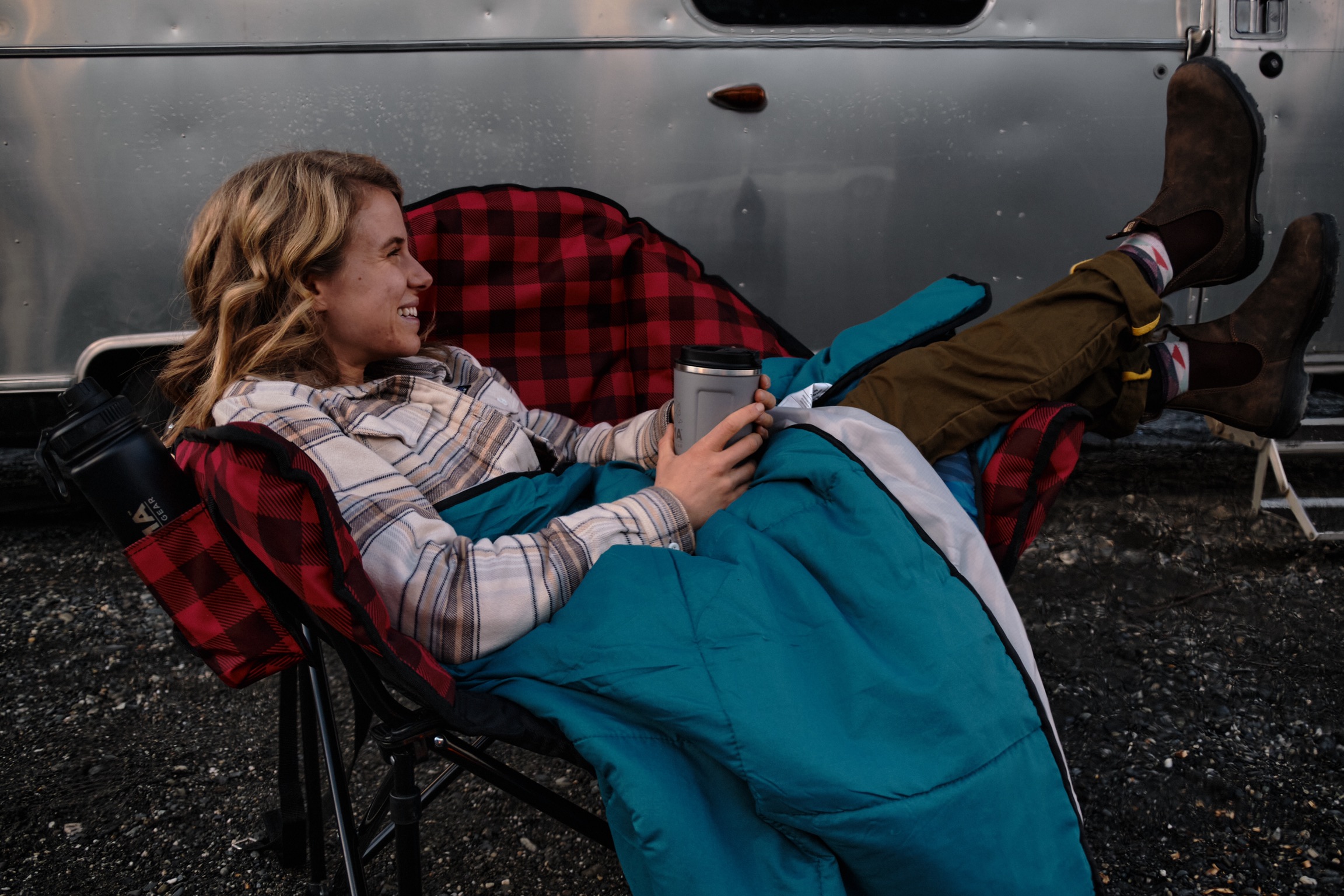 Of course, if you're still keen on fall or fall or winter camping, you'll want to stash a few items in an easily accessible spot - but those breezy tents and lightweight sleeping bags aren't much use when that thermometer begins to drop.
To help you transition from summer to winter seasons, the Kuma team put together their best camping storage tips. That way, everything is ready to go for next summer's adventure!
How to Properly Clean Your Camp Gear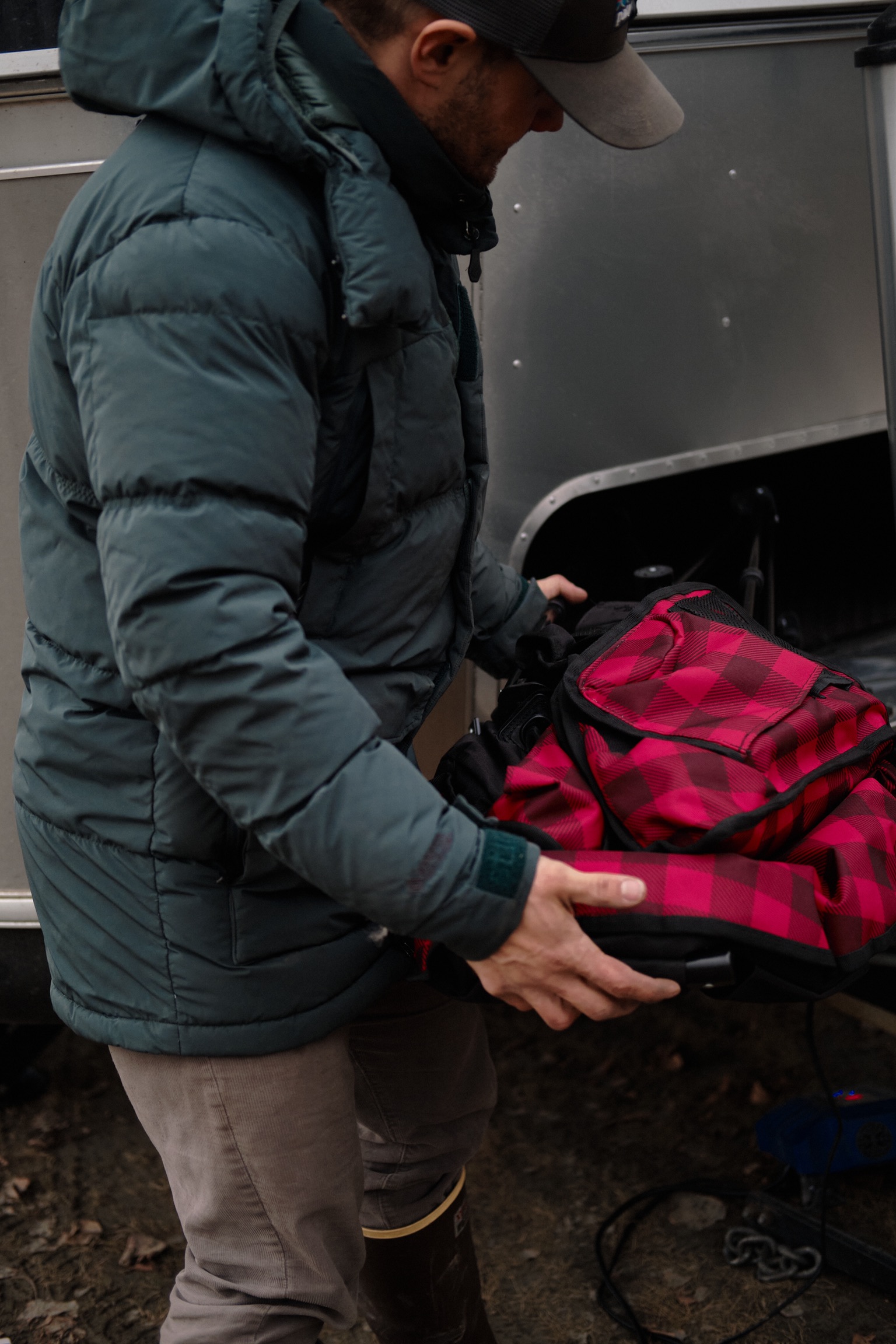 Before you put anything away, be sure you're storing it in the best shape possible.
If you went on a few fall camping trips, you may have experienced a variety of inclimate weather! Mud, grass, and water can easily get all over your gear, and if not cleaned, can cause mold and odour - which means it won't be in great shape for next year!
1. Wash things safely
For example, we advise against just tossing your cozy sleeping bags right in the washer without reading the instructions! Some sleeping bags require hand washing or front-load washing only. For example, our sleeping bags prefer to be washed in cold water, delicate cycle, using a mild detergent, and a front-loading washing machine is ideal. Best to always hang dry too!
When it comes to cutlery, pots, pans, and other miscellany - be sure to wash and dry those thoroughly before putting them in storage. Food particles can attract mice and other rodents looking for a munch!
2 . Keep everything dry
Whether it's your Tekarra Camp Tent or your Bear Den Gazebo, make sure it's completely dry before you put it in storage. If you forget, you'll start to smell the problem before next year!
Mildew is a serious risk for tents and other tarps that are stored wet for too long. If you do notice an odour, you can lightly spray your gear with distilled white vinegar - which should help kill the mold.
3. Use waterproofing spray where applicable
Before filling up your camp bins, make sure you re-apply a waterproof coating to everything that needs it. Like your summer rain jacket or the Keep It Cool Shelter. Waterproofing the outside helps to maintain the life of the gear so you can have it for years to come.
Your local hardware store or outdoor store should have waterproof spray on hand, and you can use it to make your tents more durable. After you've sprayed everything, make sure to let it dry fully before rolling it up and storing it away.
4. Repair any holes or tears
To make the most out of your camping gear, make sure to repair any damage before you roll it up and start using it again.
To repair any damage to your tent, air mattress, or camping chairs, you can use a wide variety of tools. You'll find fabric repair kits, tape, and repair patches, at your local camping supplies store.
5. Fold it correctly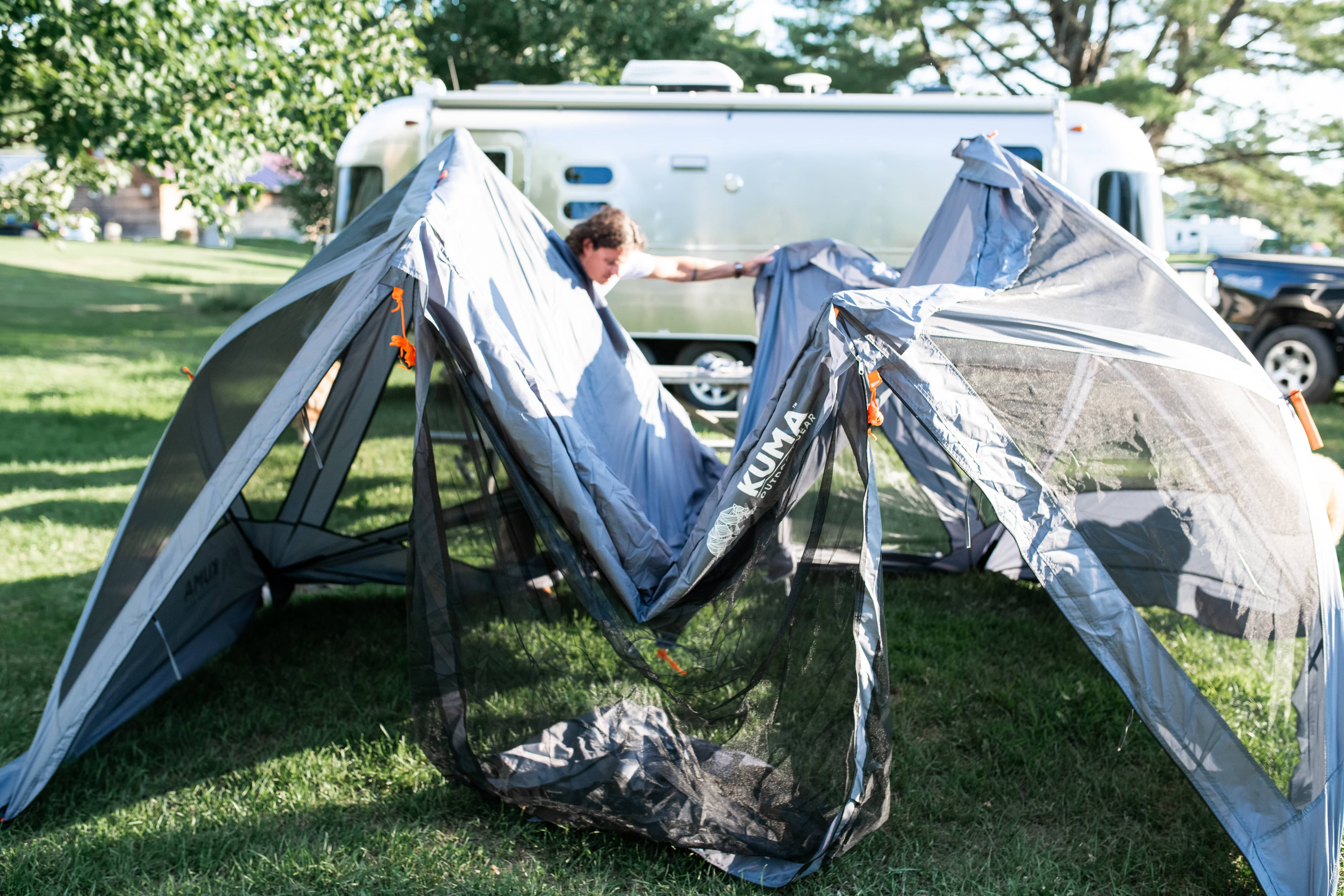 How often have you wrangled with a tent while putting it back in its bag?
Always make sure you're folding your camp gear correctly. That way, it won't wear out as fast and it'll fit in the bag more easily.
6. Remove all batteries & stray items
Finally, remove all batteries from your Heated Chairs, lanterns and headlamps. Check your tent and sleeping bags for lost socks, clothing , and other things that you missed during teardown. They're prone to eat them, the same way your washer does!
Tips for Storing Outdoor Gear
Once you've washed, wiped, and dried - you can move all your camp gear to storage. Here are some tips for storing outdoor gear safely:
Use a cool, dry place: Keep your tent away from heat, moisture, and the elements. A dry basement or clean garage is ideal!
Label everything: Save yourself time but marking down what's inside each box, that way you won't forget your camp kitchen by accident. Save your future self some stress by using clear storage bins!
Take advantage of vertical space: If you're using a small space for storage, stack your camping equipment to make more room. Buying shelves or hooks is also a good way to get the most out of a small storage area.
Keep it all together: If you can, do your best to store your camp gear in the same place. That way, you'll know exactly where to find everything the next time you need it.
Leave winter camping items at the front: If you're planning on going winter camping, make sure you store that gear where it's easy to access. A heated camping chair, for example, is perfect for a cold winter's night.
Pack It In and Pack It Out
A little effort goes a long way!
While it's tempting to toss it all into your storage locker after you're home from a trip, it's important to ensure your gear is clean and dry before storage.
Doing this helps your equipment last for years to come, and it won't smell "off" when you go to use it again next year!
Stay Connected With Our #KumaKommunity!
Make sure to follow Kuma Outdoor Gear on Instagram, Twitter, and Facebook to stay up to date on giveaways, our favourite camp-friendly recipes, how-to guides, and new product drops.
Want to share your adventure? Use the hashtag #KumaKommunity to show us your favourite Kuma gear in an encouraging and inspiring online space!
Share Article