Okay, Kuma readers, let's get cozy!
Pull up a cushy Lazy Bear Chair, pour a cup of your favourite hot beverage (preferably in our double-walled Travel Mug!), and settle in with one of our soft blankets. Let's get to know each other a bit more.

One thing's for sure, we love talking to our online #KumaKommunity about our high-quality outdoor camping gear and camp furniture - and about how we believe that enjoying the great outdoors should be easily accessible for all!
More than that, our faithful readers know the Kuma basics: that Kuma Outdoor Gear was inspired by the rugged wilderness of Jasper, Alberta, and that Kuma means bear - but what about what truly makes our team tick?
Read on, we're about to get a little more personal!
We Value Intentional Product Development
When it comes to product development, we always have both our customers and the practical use of the item in mind during the design process.
When our customers shop in one of our local retailers or on our website, we think it's important that the product has intention behind it. Something that will actually come in handy when spending time outdoors!
This intentional development and consumption mindset have helped us develop useful tools like mesh cell phone pockets, portable power banks, insulated beverage holders, and easy-carry bags with wide openings for one of our fire bowls, like our Bear Blaze Carry Bag.
With this in mind, we developed an easy to clean, super durable Pop Up Recycle Bin, so that our conscious campers can properly recycle while they're far from home.
The Kuma team is full to the brim with keen outdoor enthusiasts. Before we launch a new product, we make sure to use the gear and test it out, and we're continually thinking about how we can make the outdoor experience that much better for our customers.
We Ensure Our Products Work Together
In keeping with the theme of mindful consumption and intentional development: our products work in tandem with each other for maximum efficiency - and so our customers can easily build on their Kuma collection.
Here are a couple of examples:
Our gazebos, shelters and tents have pockets to hold your Galaxy Lights power bank battery near the tent top, so you can easily run your lights to see in your tent once the sun goes down.
Our dog blanket was conveniently designed to fit into our Lazy Bear Dog Bed, so your pup can use the blanket alone or as a complement to the dog bed! Perfect for those chilly nights.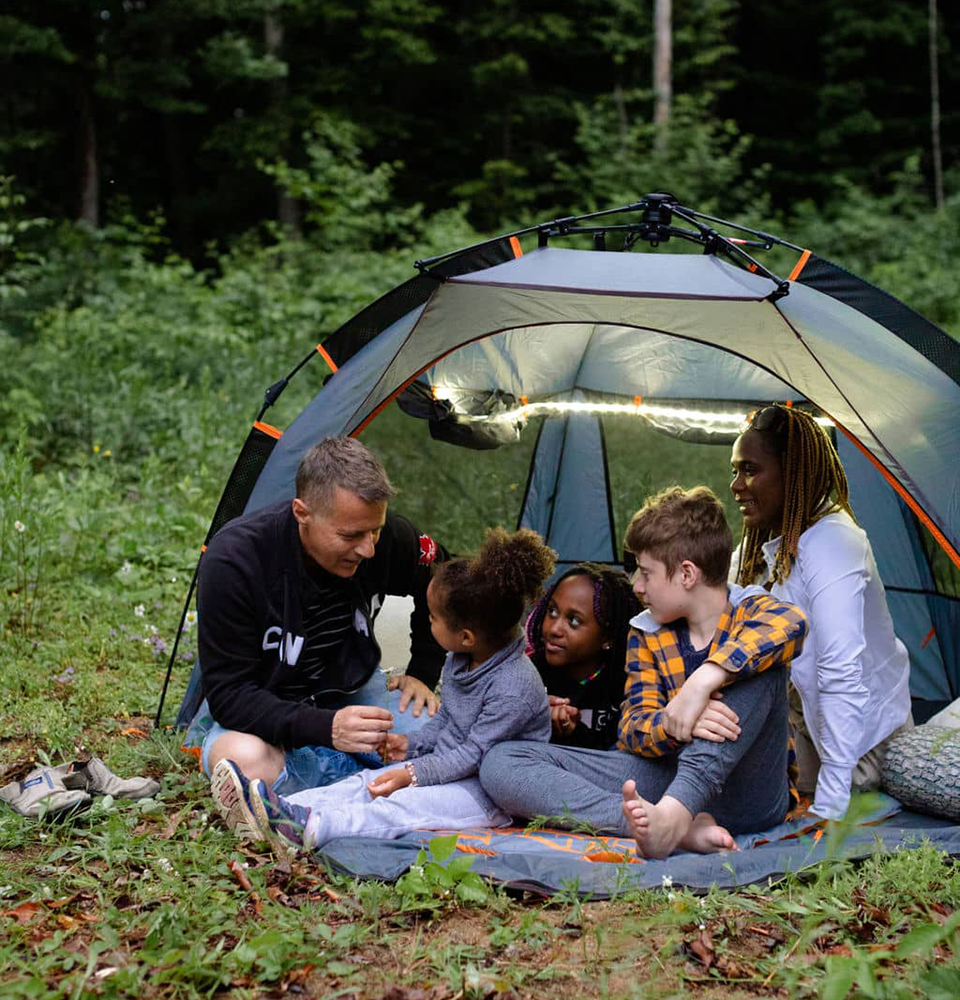 We Prioritize Empathy In Customer Service
When it comes to customer service, we lead with empathy. With each customer's concern, our efficient team takes care to see the situation from our customers' point of view, and we go from there.
If there's ever an issue, our bottom line is making it right for our Kuma Kommunity!
We're Dedicated Pet Parents!
As you might have guessed - we love pets. Many of our staff have pets, which makes it easy for our staff to incorporate their perspective on being a pet owner when it comes to product development.
The team at Kuma strives to ensure that it's easy for our customers to bring their pets on all their adventures. This is why we make it a point to continually - yet mindfully - develop products that truly offer value to our pet-parent consumers and that make it easy to bring their pooch on that upcoming hike or camping trip!
Shopping With Kuma
From pet products to camp furniture to accessories, we love being able to share high-quality, durable, and useful outdoor gear with our Kuma Kommunity.
To that end, we've surely named a few exciting items above, and we want to make sure you can shop for them without any snags.
When shopping, you'll find our drinkware, pet products and apparel all online for purchase, but keep in mind that some of our products are only available at participating retailers. We do this to ensure that your locally owned outdoor businesses' continue to thrive and survive in the retail world.
They have the ability to offer extended face-to-face service that online purchasing just can't do. For example, our Lazy Bear Dog Bed product page indicates that they're only available in-store. This provides the opportunity for you to see the bed in person to make sure it is just right for your furry friend. Worried about finding a store that carries the product you want? No sweat. We've partnered with a ton of amazing retailers in both Canada and the United States. We've even put together a map (courtesy of Locally.com) so our customers can easily locate their nearest Kuma retailer!
Did You Know…?
Kuma Outdoor Gear was originally called Grizzly Outdoor Gear.
The name was changed shortly after our humble beginnings to embrace the culture and history of one of Kuma's original owners - and to pay tribute to the bear, an animal we love and respect.
Stay Connected With The #KumaKommunity Hashtag!
Follow Kuma Outdoor Gear on Instagram, Twitter, and Facebook to stay up to date on contests, giveaways, product roundups, new product launches, and to grab inspiration from others in our thriving community!
Use the hashtag #KumaKommunity on Facebook and Instagram to share your outdoor adventures and to show us your favourite Kuma gear - and what you use it for - all in an encouraging and inspiring online space!
Share Article