Kooking with Kuma Outdoor Gear: Breakfast Hash
Surrounded by trees, sitting by the campfire, and listening to a meal you've prepared sizzling away on the camp stove is guaranteed to make anyone's stomach growl with anticipation. Sharing a meal with family or friends is one of our favourite parts about camping, but sometimes it is easy to get into a "hot dogs for every meal" rut when planning your camping menu.
We're here to help! Over the upcoming months we will be sharing with you recipes, videos, and tips for all your camping cuisine adventures this summer. From experienced camping chefs, to those that are new to cooking outdoors, we will have something for everyone!
Every camping adventure starts with a good breakfast meal which is why we chose an easy breakfast hash to share as our first recipe. With it's easy ingredient list, the ability to make it for a crowd, plus only one pot to clean up - we know this will soon become a family favourite!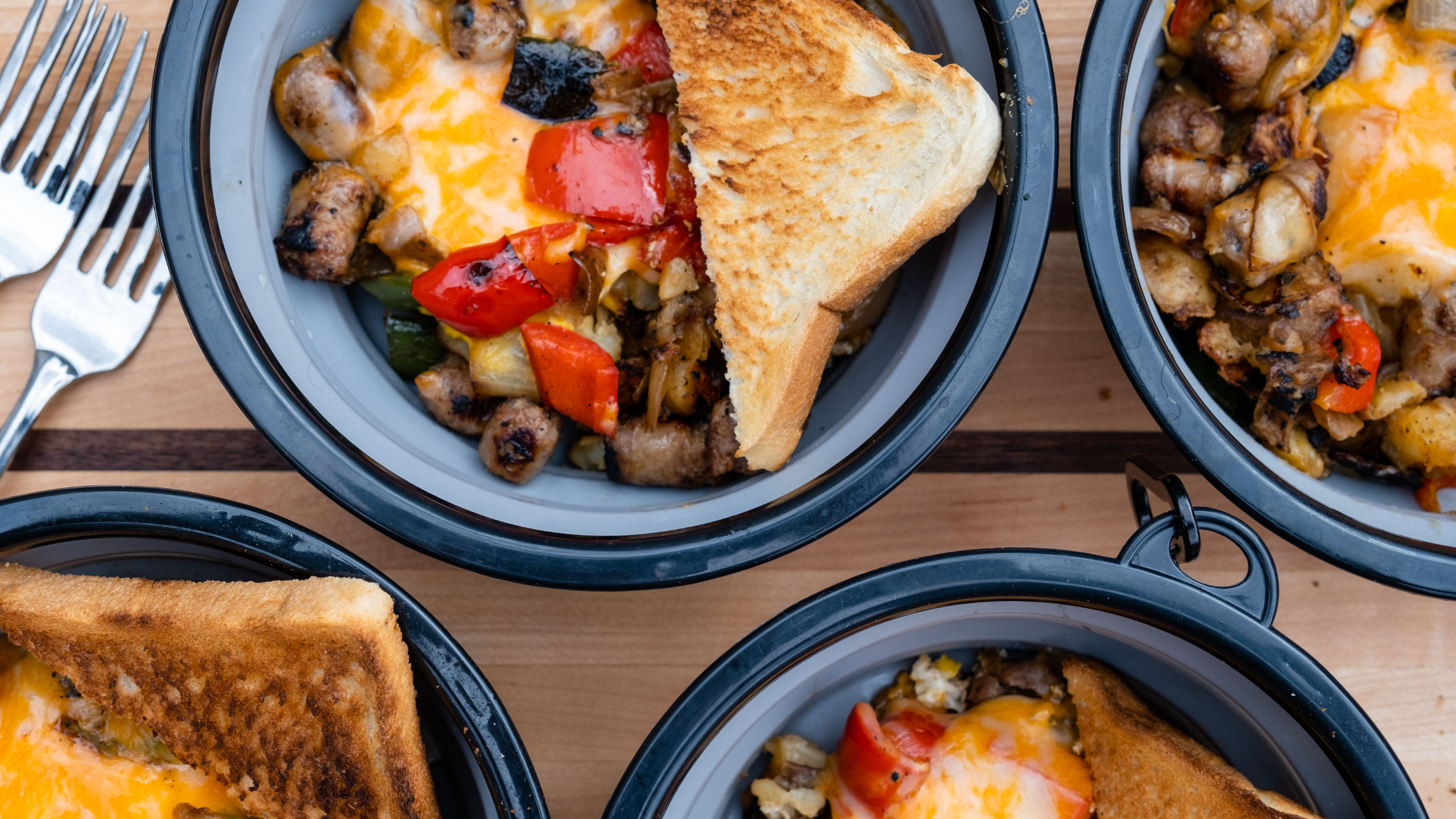 Ingredients
4-5 russet potatoes

1 red bell pepper

2 jalapeno peppers

1 yellow onion

1 lb breakfast sausages

4 eggs

1 tbsp cajun seasoning

1 cup grated marble cheese

3 tbsp olive oil
Equipment:
Preparation
While waiting for the water to boil, halve the potatoes lengthwise and then into slices about ½ cm thick. (For large potatoes, cut into quarters then slice)

Add these into a large pot of salted water and bring up to a boil. Continue to boil until fork tender (about 5 minutes after the water has come up to a boil).

While the potatoes cook, dice the bell pepper, jalapenos and onion into similarly sized pieces and set aside.

Once the potatoes are fork tender, transfer them directly into a preheated cast iron pan with 2 tbsp olive oil. Sprinkle with the cajun seasoning and let cook until the bottoms are crispy, then toss to crisp all sides. Do not mix too often or before the bottoms are crispy or the potatoes will start to fall apart.

While the potatoes crisp up, slice the breakfast sausages into bite-sized pieces and fry in another cast iron pan. Cook

until browned and fully cooked through (about 4 minutes). Then remove from the pan and set aside.

As soon as the sausages are removed from the pan, add in the peppers and onion and 1 tbsp olive oil. Saute over medium heat until the peppers are softened and the onions are translucent (about 3 minutes).

Now that the potatoes are nice and crispy all over, we can consolidate our two pans. Add our peppers, onions and sausages all on top of our potatoes, with the heat on low.

Using a spoon create 4 little craters, or pockets to crack our eggs into. Try to make the pocket deep enough that you can see the bottom of the pan. Crack an egg into each pocket and then cover the pan with a lid. We need to trap the steam to cook our eggs.

As soon as the whites are starting to set (3 minutes), lift the lid and sprinkle some grated cheese on top of everything. Cover just until the cheese is melted and then serve.

This should give you an egg with a runny yolk. If you would prefer to have your yolk hard, wait until the yolk starts to lighten in colour before adding the cheese.
Tips
If you think your potatoes are going to over cook while you cook the peppers and sausages, you can turn the heat completely off on that pan. It will stay warm and then heat back up the rest of the way while you cook the eggs.

To reduce the spice in the dish you can remove the seeds from the jalapenos, or swap out the jalapenos with a green bell pepper.
Stay In the loop with the #KumaKommunity
Follow the #KumaKommunity hashtag to stay on top of contests, product giveaways, outdoor inspiration, and more! Don't forget to share your camping culinary adventures using the hashtag too! Follow Kuma Outdoor Gear on Instagram, Twitter, Pinterest and Facebook.
Share Article