Lazy Bear Beer Braised Brats
An elevated classic camping meal
You've spent the day away from the campsite exploring the area but you know as soon as you get back you're going to hear "I'm hungry!" from your camping crew. This meal, our second in the "Kooking with Kuma" series, is the perfect meal to plan for busier camping trips! It's easy, has very little prep time, cooks fast, and can feed a crowd easily.
The best part though?
Nothing beats sitting in your Lazy Bear Chair at the end of a busy day outdoors, enjoying a classic camping meal, and cracking open a can of Lazy Bear Lager from Kuma and Alley Kat Brewing.
Ingredients
4 bratwurst
4 sausage buns
2 bell peppers (mix of red and gree)
1 large sweet onion
Mayonnaise
Mustard
Butter
Monterey Jack Cheese
1 can KUMA Lazy Bear Blonde Ale


Vinaigrette

2 tbsp olive oil
2 tbsp red wine vinegar
2 tbsp whole grain mustard
2 tsp onion powder
2 tsp garlic powder
1 tsp oregano
2 tsp salt
2 tsp black pepper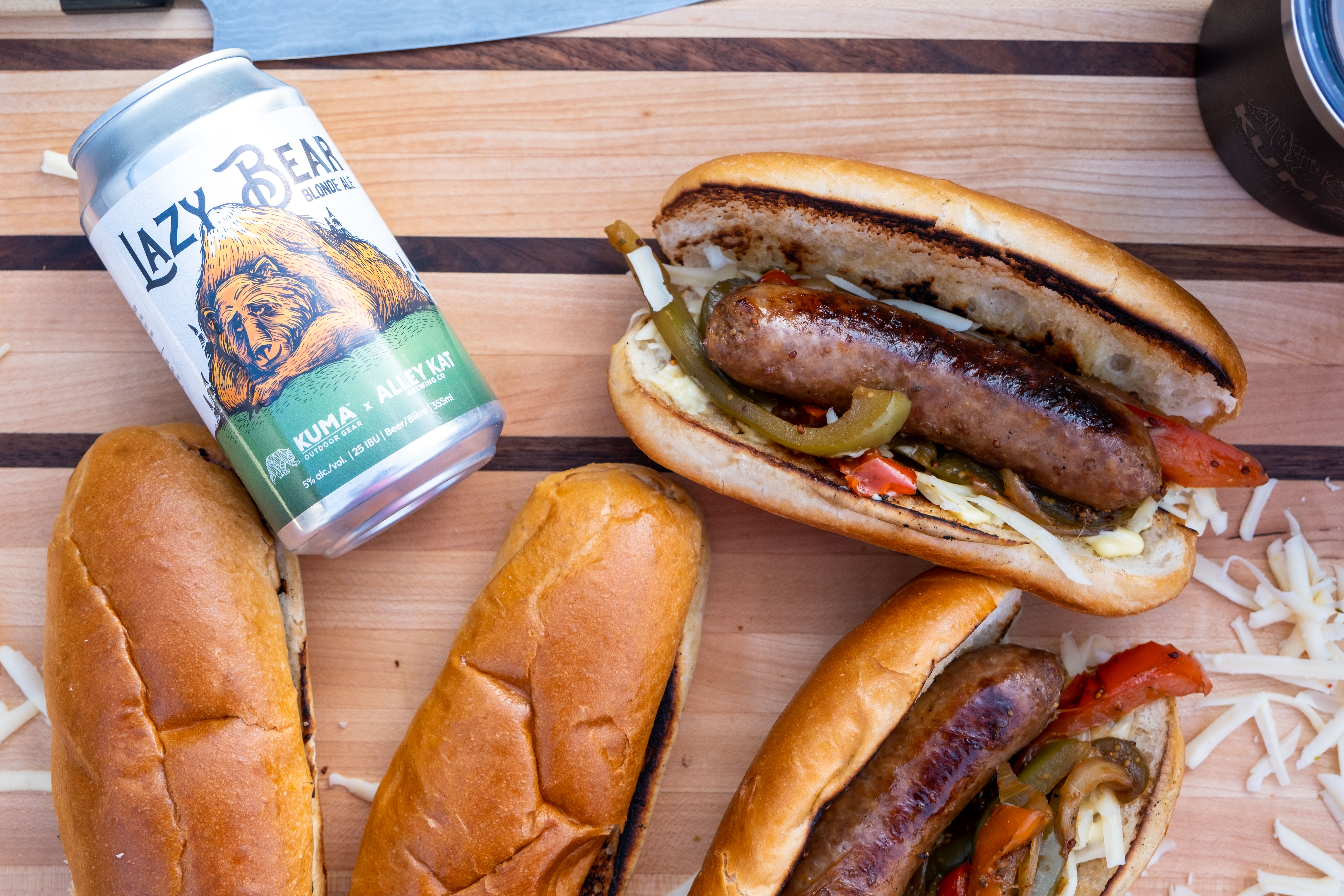 Equipment
Preparation

1. Slice the peppers and onions into thin strips, set aside.
2. Heat olive oil in a cast iron pan.
3. Add the bratwurst and cook until browned on one side, flip and brown on the other side then remove from the pan. (3-4 minutes per side)
4. Reduce heat to medium, add in the peppers and onions and then pour the vinaigrette on top.
5. Toss to coat and cook until softened and onions are translucent. (2 minutes)
6. Add the bratwurst back to the pan, placed on top of the bed of peppers.
7. Pour 1 can of KUMA Lazy Bear Blonde Ale into the pan. Cover and braise for 10 minutes.
8. Remove the lid, raise heat and reduce the liquid until ¼ is left. (5-10 minutes)
9. Toast buns with butter, add in some mayo, mustard, grated monterey jack. Top with peppers, onions and bratwurst.
Tips

Watch the heat when the pan is covered, you may need to reduce it so that it does not boil over.
STAY IN THE LOOP WITH THE #KUMAKOMMUNITY
Follow the #KumaKommunity hashtag to stay on top of contests, product giveaways, outdoor inspiration, and more! Don't forget to share your camping culinary adventures using the hashtag too! Follow Kuma Outdoor Gear on Instagram, Twitter, Pinterest and Facebook.
Share Article