The upcoming May long weekend may be the first warm, sunny foray into summer getaways (hello bonfires and barbeques!) for plenty of our readers - but for many others, the weather may not be as glamorous. That's where we come in.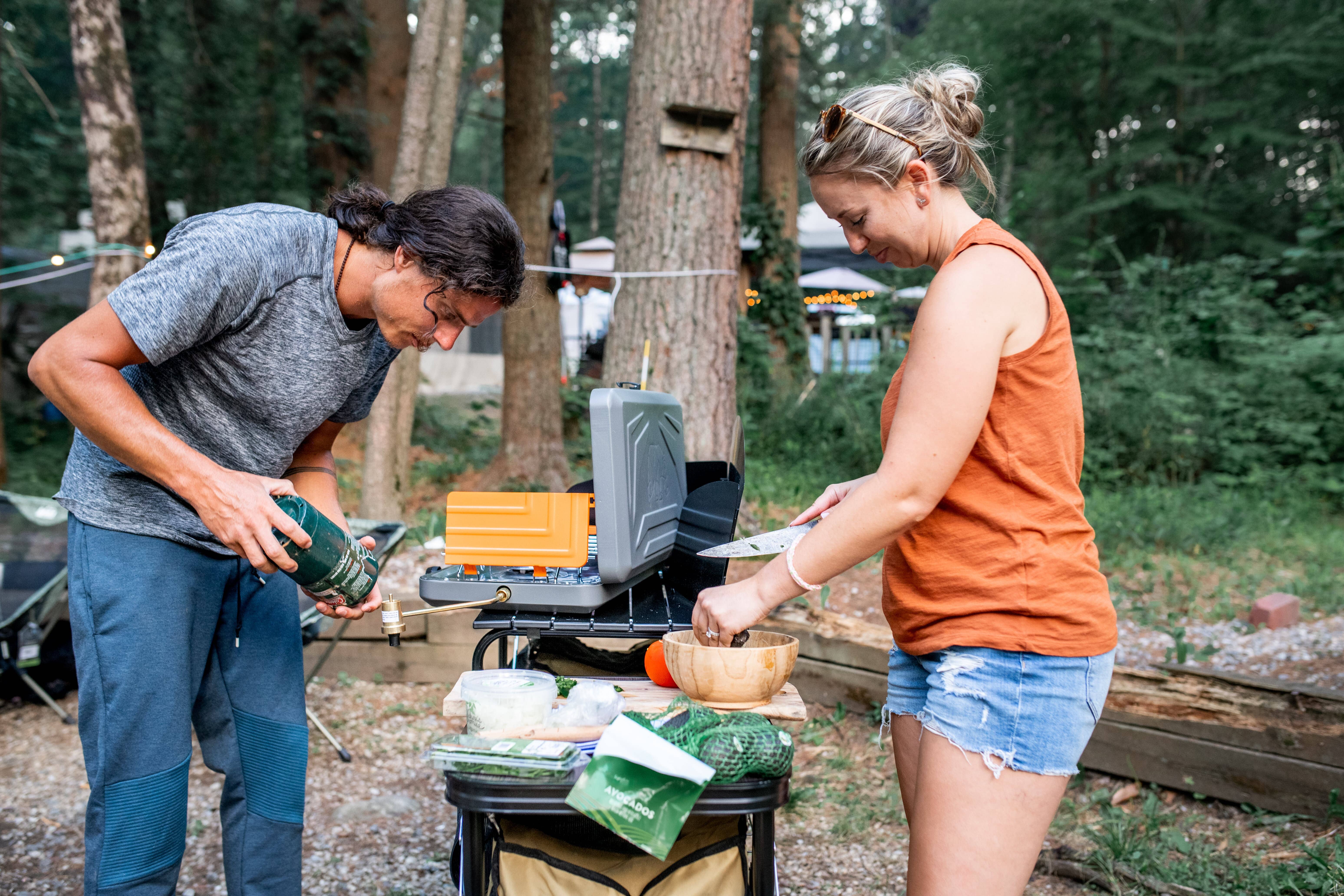 We've put together our essentials for outdoor living, so whether you're tenting in the Great White North or living your best West Coast #vanlife - Kuma has something for everyone in any climate!
Gather 'round the proverbial campfire and get comfortable - let's get into our must-haves!
We're hard-pressed to think of anything more comfortable and cozy for a chilly May night than a fluffy Sherpa throw blanket.
Measuring 70"x 60" (or 6ft x 5ft), the Sherpa throw is easy to pack away for those evenings by the fire. Pair it with one of our microfleece Wood Chip Pillows, and you've got yourself a comfortable evening ahead!
Look for the Sherpa Throw and Wood Chip pillows at your local authorized Kuma retailer.
When living life outdoors, it's important to keep fire safety top of mind, particularly on the North American West Coast. Many provinces, states, and territories have cautionary fire bans in place for days or weeks at a time - which can make keeping warm difficult for those living that outdoor lifestyle, be in a tent or next to your RV.
The Bear Blaze Fire Bowl is our answer! Our fire bowl is CSA-approved, which means it's safe for use under most fire bans. Bonus, the Bear Blaze is easy to assemble - no tools required.
Note: Fire bowls are a safer alternative to a wood-burning pit or open fire. Wood fires can easily release sparks and embers into the air, which is highly dangerous in arid environments.
Always exercise caution when operating the fire bowl.
Find our Bear Blaze Fire Bowl at your local Kuma retailer!
Imagine being able to pack up your kitchen counters and take them with you on the road for the May long weekend - what a fantasy, right? Not when you grab our Busy Bear Camp Kitchen!
With a convenient collapsible design and an ultra-lightweight frame, you'll be whipping this bad boy out at every opportunity. Perfect for s'more and hot dog prep!
Picture this: you're at a festival, and it's hot. You're perspiring, actively sunburning, and are desperate for a bit of shade.
Enter the Keep It Cool Instant Shelter, perfect for anywhere the sun or rain gets a little too intense. Easy pull tabs on the top of the frame instantly pop the shelter out, so you can hop in and immediately cool off - with minimal effort.
The shelter is UV resistant, water-resistant, and has a convenient carry bag. Perfect for long days in the hot sun!
The Keep It Cool is ideal for festivals, those long outdoor soccer games, camping, hot days by the RV, or even for sunny afternoons in the backyard.
Find one of our Keep It Cool Instant Shelters at your local Kuma dealer!
Our Lazy Bear heated chairs are ideal for those chilly moments outdoors!
Our heated chairs are ideal pieces of camp furniture. Available as a single-person chair or a double-person chair (The Bear Buddy!), our customers enjoy customizable heat, no matter what time of year it is.
Durable, sturdy, and portable, the Lazy Bear features a luxurious padded back and chair, an insulated beverage holder, a mesh phone pocket, and a handy pocket underneath for snacks, flashlights, and other handy camping items!
Find one of our Lazy Bear Heated Chairs at your local Kuma dealer!
Honourable Mentions:
Lazy Bear Dog Bed: Another camp furniture must-have! Your furry friends should enjoy premium comfort too! Our Lazy Bear Dog Beds are perfect for those nights when you don't feel like sharing your chair with your pup!
First Aid Kit: A first aid kit is a must for trips both long and short, you never know when you'll be faced with a nasty hornet sting, a sizzling sunburn, or a scraped knee!
Cooking utensils: Don't forget to bring a few sturdy pots and pans, paring knives, and camp-friendly cutlery.
Flashlights (and batteries): Smartphone flashlights are a significant battery drain, and you don't want to deal with a dead phone and a dark walk back to the tent - even if it's just a few feet! Our Galaxy String Lights are perfect for ambient lighting outdoors, and come with convenient silicone ties.
Portable Chargers: A phone in proper working order is essential for outdoor safety. Plus, a portable charger compatible with laptops is perfect for trying your hand at that digital nomad lifestyle! Try our Portable Power Bank whenever you need a little extra juice!
Firestarters: Depending on where you're tenting or parking the RV, if local fire authorities allow, having a fire starter is crucial for staying warm and cooking!
Water treatment: From tablets to personal straw-style filters, if you're ever unsure where your next safe drinking water will come from, be sure to carry a product that ensures you stay hydrated
Stay In The Loop With The #Kumakommunity!
Follow the #Kumakommunity hashtag to stay on top of contests, product giveaways, outdoor inspiration, and more! Follow Kuma Outdoor Gear on Instagram, Twitter, and Facebook.
Share Article