Camping season is nearly upon us, and our online #KumaKommunity could not be more excited for those invigorating hikes, indulgent campfire meals, and cozy nights around the fire.
However, just because the summer months are just within reach doesn't mean camping season or long-term RV living hasn't been in full swing for many outdoor enthusiasts. High-quality and luxurious outdoor gear is essential for every campsite, whether you're in a tent or an RV.
Speaking of essential camping gear - what about the importance of a comfy spot to sit on those chilly nights? Quality, heated folding chairs for that outdoor living room are a must - even better when they're easily portable.
Let's discuss why campers love a good heated chair and how our Lazy Bear Heated Chair ticks off every box for the comfort-conscious.
Kuma Outdoor Gear: The Lazy Bear Heated Chair
Available as a single-person chair or as a two-person chair (affectionately dubbed the "Bear Buddy"), the Lazy Bear Heated Chair delivers three-tiered warmth year-round.
With a weight capacity of 350 lbs, the Lazy Bear is made of durable 600 denier polyester material. The chair features a cushy padded back and armrest with an insulated beverage holder, a mesh pocket for your phone, and a stash mesh pocket under the chair.
Weighing in at 15 lbs, the Lazy Bear is sturdy enough to stay put and light enough to quickly store in the trunk! The seat is 16 inches in height, and the black tube framing is ¾ inches thick. The chair also features supportive stabilizing feet - perfect for uneven ground!
Premium Heating Technology
For the heating technology, we've partnered with ADDHEAT Control Systems. They are known for adding heat elements in apparel products of some of the world's most popular brands.
Not just any heat delivery system, ADDHEAT is ultra-safe and specifically designed for coats, mittens, boots, outdoor heaters, and other wearable or personal items.
Powered with a durable 5V lithium-ion battery placed discreetly underneath the chair, the heat originates from the seat of the chair and has three colour-coded settings:
Low (Green) - Runs for 6 hours at 36°C/100°F
Medium (Yellow) - Runs for 4 hours at 45°C/113°F
High (Red) - Runs for 2 hours at 55°C/131°F
The button sits on the right armrest, and the user simply has to toggle through to select the setting they want and the LED button will display the corresponding setting. To power the chair off, simply press and hold the power button for 3 seconds.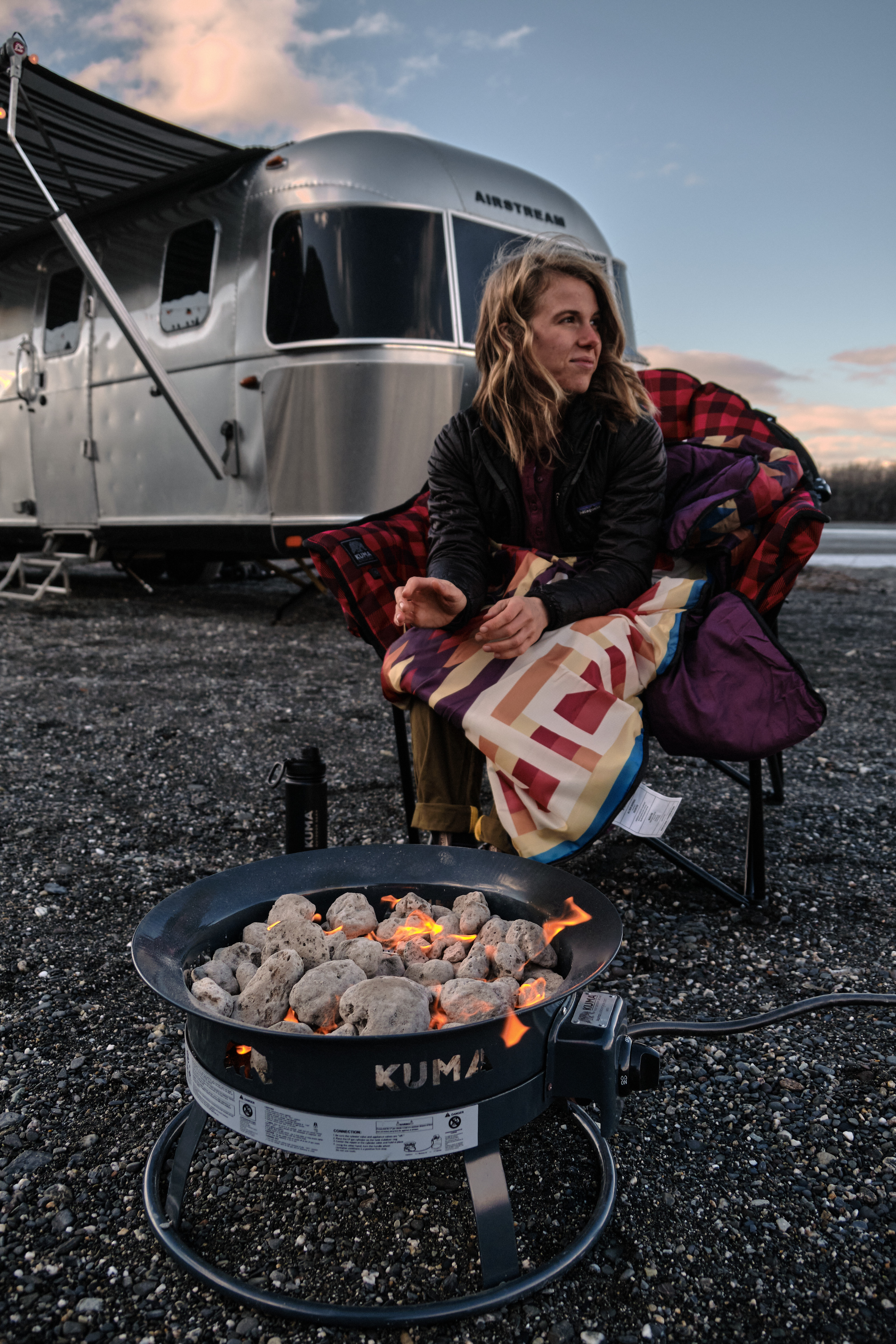 Why Heated Folding Chairs Are Essential For Campers
All campers, regardless of experience level or trip length, deserve to have efficient and functional outdoor gear that looks great - and a padded, heated folding chair is a perfect marriage of function and comfort.
Whether you're camping for a night or a month, here are just some of the ways the Lazy Bear chair elevates the outdoor experience and keeps things cozy:
For those with chronic pain issues, easy access to direct heat can make all the difference for those busy days full of hiking, unpacking and packing, and other very physical activities.
Portability. Not too heavy, not too light - it's just right! The Lazy Bear chair is easily stored in its companion carry bag, and can fit pretty much anywhere in the car or in the trunk! Plus, with no cords to worry about untangling, there's no fuss while setting it up and packing it away.
Free up some space! Ditch the extra clothing layers and leave the bulky heated blankets at home! No matter the weather or season, the Lazy Bear Heated Chair will keep you nice and toasty.
These heated chairs are the perfect campfire companion. Who hasn't gone to a campfire only to enjoy a warm front yet shiver from a frigid rear? Those days are gone - enjoy warmth all over with the Lazy Bear!
The Lazy Bear Isn't Just For Camping!
Keep in mind that while our Lazy Bears are ideal for campers, there's no need to keep them in storage until your next trip!
Whether you're enjoying a barbeque or bonfire with friends, sipping a snowy beverage on the front porch, or attending that long-awaited Santa Claus parade - these heated folding chairs are only too easy to incorporate into daily life.
Want to pick one up for yourself? Check out the Kuma website for more details on local retailers!
Keep up with the #KumaKommunity!
Don't forget to give us a follow on Instagram and Facebook to stay up to date on contests, giveaways, product roundups, new products, and get that daily dose of outdoor inspiration.
Use the hashtag #KumaKommunity to share your outdoor adventures and to tell us how you like to use your Kuma gear - all in an encouraging and inspiring online space!
Share Article