Hold the phone, paws the Netflix, and start that drumroll.
We won't beat around the bush (but we will camp in it!) - we're super excited to announce the launch of our newest pet gear collection!
Proudly Canadian, we're all about inclusive, comfortable, and luxurious outdoor gear for campers of all skill sets and lifestyles - including furry friends! You want your pet to go where you go, so we make that extra easy with our wide range of pet-friendly outdoor equipment.
We can't wait to show and tell. Let's take a closer look at the latest pet gear from Kuma Outdoor Gear:
Another in the retro Backtrack line up- the Backtrack Dog Collar features a throwback look complete with soft-touch webbing for prime comfort and prime style.
Available in small, medium, and large, this collar has a snap buckle, lightweight D-ring for extra security, and comes in four vibrant colours.
Bonus, this collar matches with our Backtrack Chair and the new Backtrack Leash. All of the Backtrack gear is made with super durable and super soft polyethylene webbing, an extra tough webbing material designed to withstand stretching, warping, and wear-and-tear. All collars come complete with Rock Lockster® buckles, known as some of the best buckles in the pet business.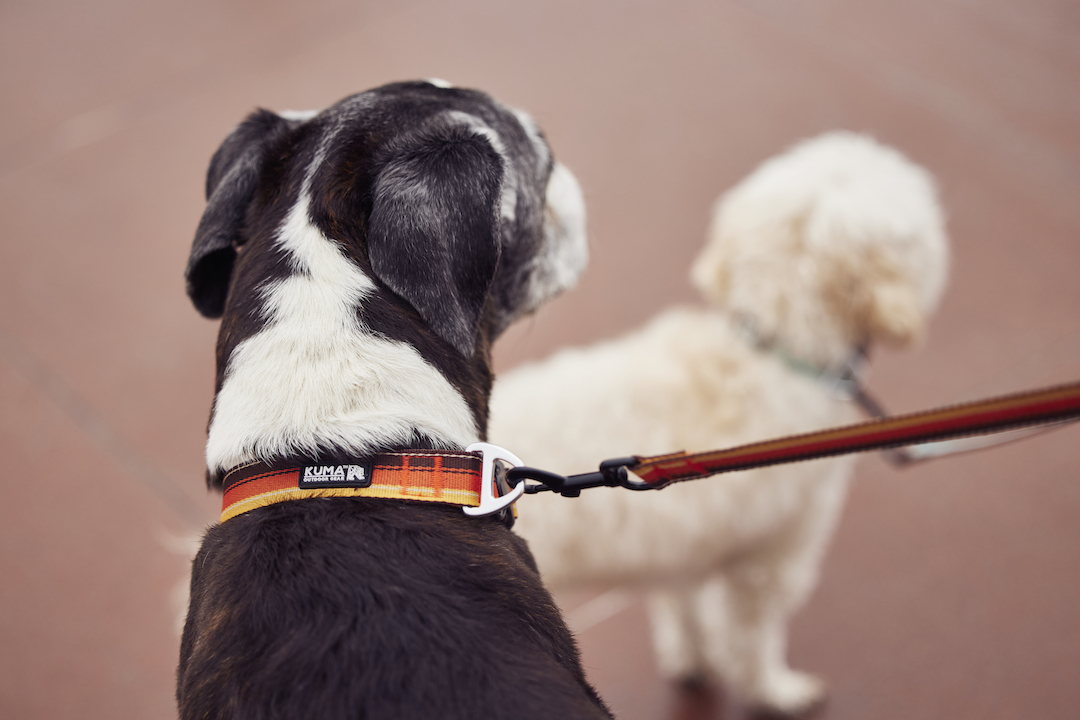 As mentioned, here's the next new product in the Backtrack line up - the Backtrack Leash.
Like the matching Backtrack Collar, this leash sports a unique Seventies vibe complete with soft-touch polyethylene handle for superior comfort and style.
The Backtrack leash is a generous 5' in length (or 60" by 1") and comes available in a variety of retro colours. Bonus, the leash also has a convenient 360-degree swivel clip - perfect for curious pooches!
Of course, this leash pairs perfectly with our Backtrack Chair and the new Backtrack Collar.
All of the Backtrack gear is made with comfortable polyethylene webbing, a super durable webbing material designed to withstand heavy use!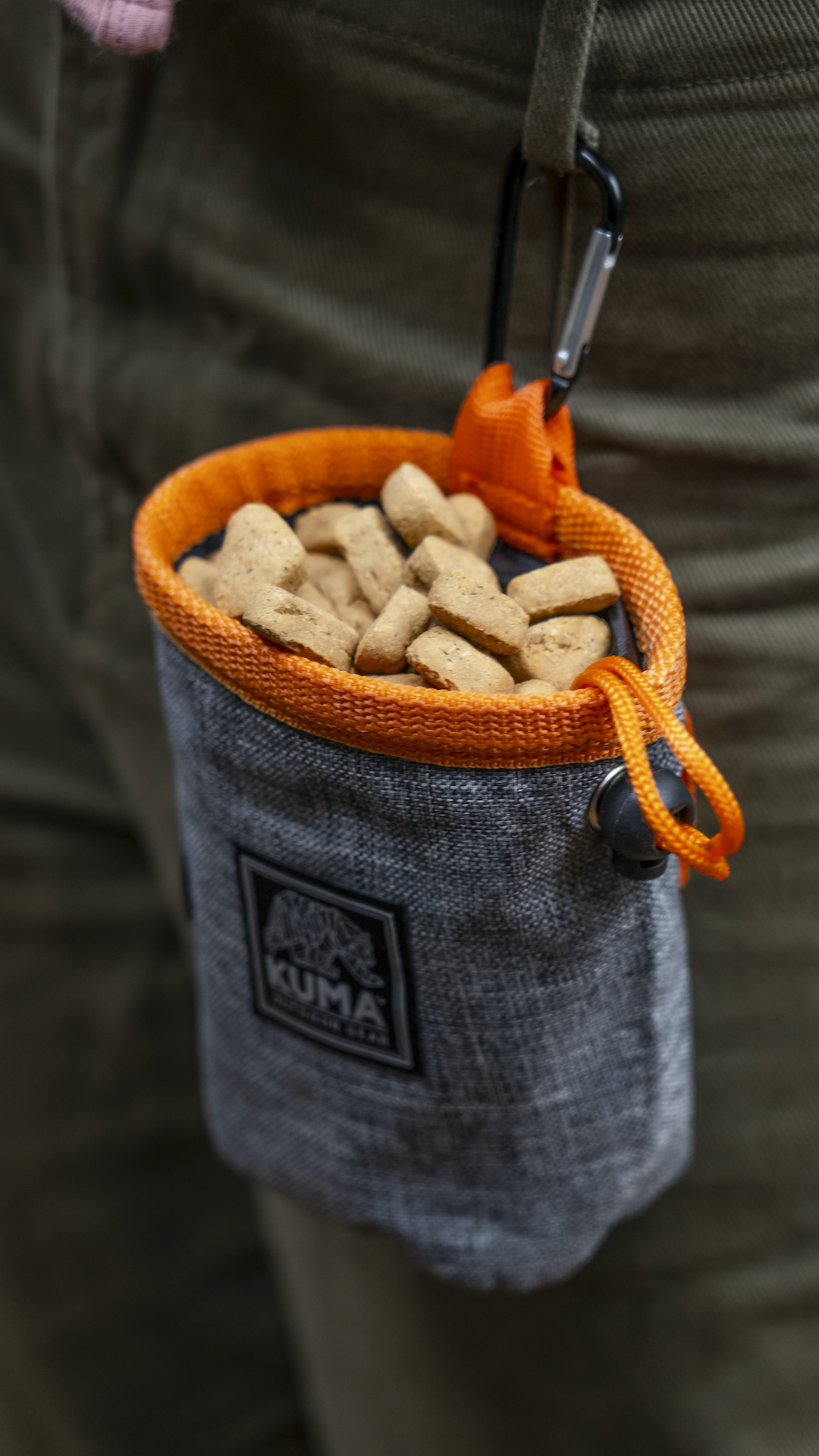 Storing dog treats can be challenging. Plastic bags aren't super convenient (neither is disposing of them), and putting them in your pocket can get a bit…messy. Plus, you want to keep them fresh and enjoyable for your dog without taking up too much room!
Enter the Good Dog Treat Pouch. This little pouch comes equipped with a nylon interior, drawstring closure mechanism, a convenient belt clip, and even a carabiner.
For extra efficiency, the exterior of the pouch has a waste bag dispenser pocket for those inevitable bathroom breaks.
Take the Good Dog Treat Pouch with you hiking, camping, on the road, or on a nice long walk!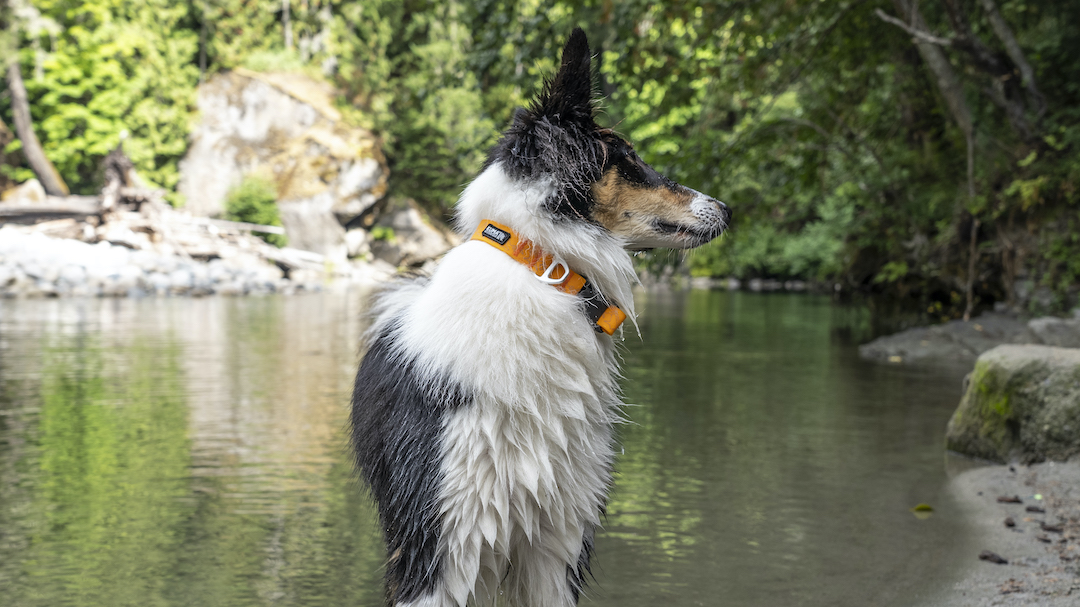 We don't know a single person who loves the smell of wet dog, but the smell of a wet collar is even more of a shock to the nose - especially in a warm tent, a car, or the close quarters of an RV.
But - wet collars are kind of an inevitability when you and the pooch are camping, hiking, or taking a quick dip in a refreshing lake on a hot day.
With the new Soggy Dog Collar, that all too familiar, pungent scent of a wet collar is a thing of the past. BPA-free, odour free, and made of sturdy silicone - the Soggy Dog Collar is a smell repelling pro.
Available in small, medium, and large, this smell-proof collar is adjustable, features a Rock Lockster® buckle and lightweight D-ring, and has reflective detailing for those late nights by the water.
Grab The Latest Pet Gear Today!
The best part of this product roundup? You don't have to wait to score our new launch. The Soggy Dog Collar, Good Dog Treat Pouch, the Backtrack Leash, and Backtrack Dog Collar are all available to buy online - no need to leave your couch!
Want to see our full range of pet gear? Shop all of our pooch-friendly products here!
Keep up with the #KumaKommunity!
Be sure to follow us on Instagram and Facebook to stay up to date on contests, giveaways, new product features, daily outdoor inspiration, and more!
Use the hashtag #KumaKommunity to share your outdoor adventures with your furry friends in an encouraging and inspiring online space!
Share Article